guitarz.blogspot.com
: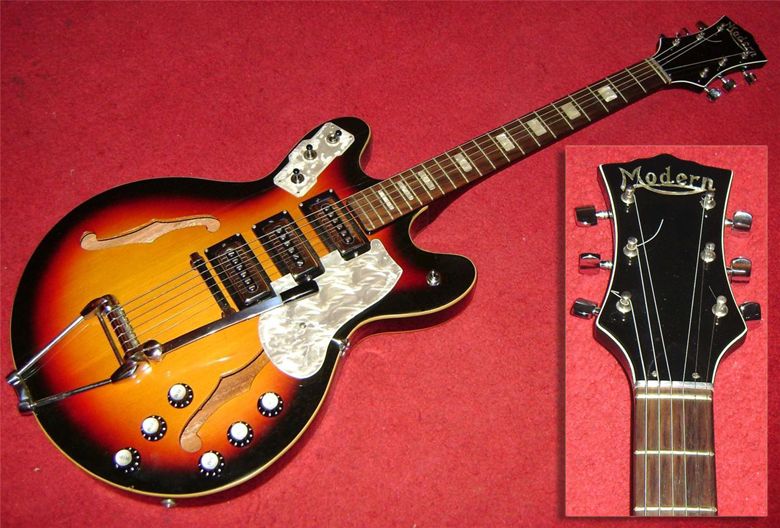 When I say "Modern" I don't mean that this guitar is an uptodate contemporary instrument, but rather it is actually a
vintage 1960s Italian-made guitar badged with the "Modern" brandname
. Of course, Italian guitars of this era are famed for being festooned with pickups and switches, and this Crucianelli-made guitar doesn't let the side down and features three pickups with a volume and tone control for each, plus pickup selector switch and individual switches for each pickup. Whether these are simple on/off switches or whether they do something cleverer with the tone (I doubt they are coil taps as the pickups appear to be single coils) I couldn't tell you. And perhaps all those volume and tones were just too confusing for a previous owner, as the seller of this guitar tells us that "The Vol/Tone knobs appear to have been wired in a line so they all act as master vol or tone knobs instead of individually."
It's a great looking guitar - I personally don't care for the pearloid plate for the three switches on the upper horn which gives the guitar the appearance of having a band aid or three slapped onto it - but I guess it's idiosyncratic features such as this that make these vintage Italian guitars so appealing to collectors.
Currently being offered for sale on eBay with a Buy It Now price of $639.95.
G L Wilson
© 2013, Guitarz - The Original Guitar Blog - the blog that goes all the way to 11!