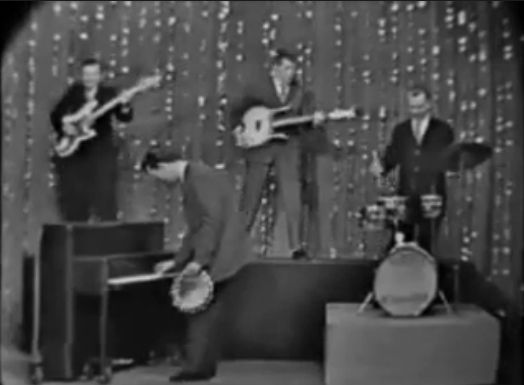 guitarz.blogspot.com
:
Here's a fantastic clip of
Link Wray and his Ray Men playing "Rawhide"
on
Dick Clark's American Bandstand
. I love the reactions of the young studio audience when the camera turns on them, especially the girl who quickly whips her glasses off. (Please note, I am unable to embed this particular YouTube video here, so please click on the links).

The guitar that Link is seen playing here is the
Danelectro Guitarlin
, first produced in 1959 (it would have been new and "modern" when this video clip was filmed). The lyre-shaped body with extra deep cutaways allowed a longer than usual neck to be used on the guitar whilst keeping the instrument at a regular guitar scale length, thus the neck sports 31 frets taking it into mandolin territory when playing high up the neck - hence the name,
Guitarlin
.
G L Wilson
© 2013, Guitarz - The Original Guitar Blog - the blog that goes all the way to 11!
Please read our photo and content policy.