guitarz.blogspot.com
: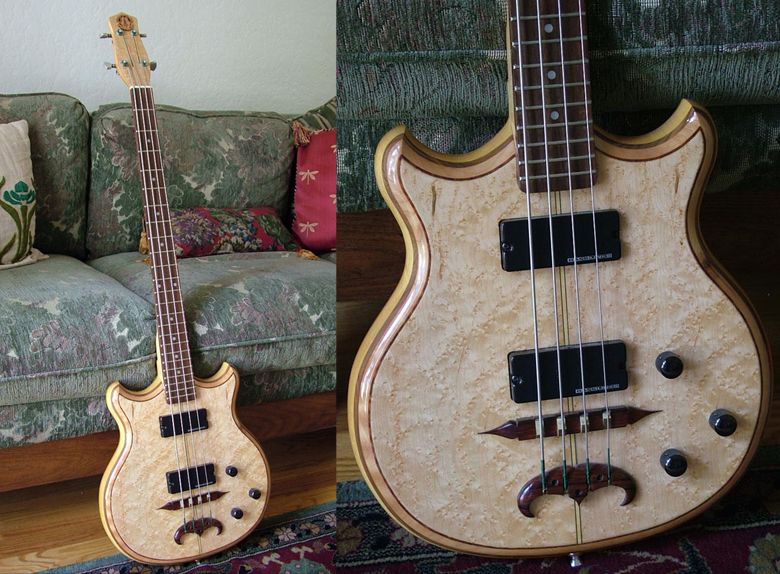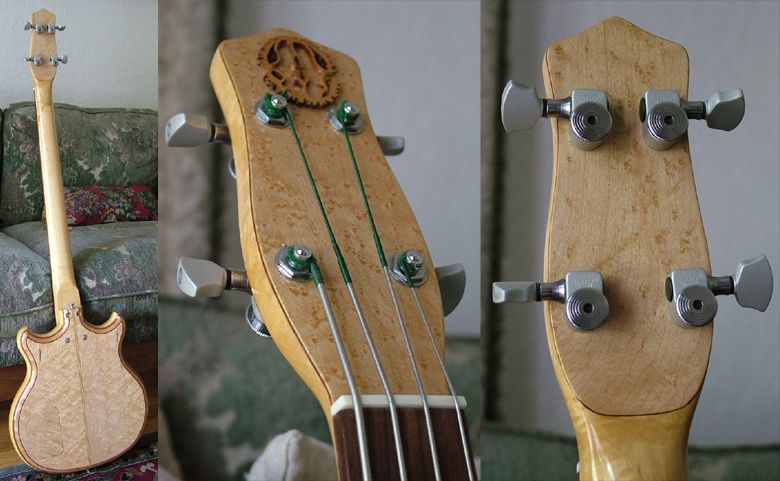 Guitarz
reader Paul H. writes:
I'm an old Deadhead, so I love me an Alembic-style bass. This one is weird. Love the rosewood tailpiece/bridge, but I'm not too sure about the Dan-O headstock.
The eBay listing tells us that:
This is a custom/proto-type hollow body bass. It is short (30.5") scale and was made as a test platform by a custom luthier to work on ideas for a line of instruments. The body, as stated, is hollow. It's got massive bracing, so there are no issues with feed back, and the tone (when using the recommended "Pyramid" brand strings) is somewhere between a Hofner and a Guild Starfire. (Listen to the bass on Lucy In The Sky or Baby Your A Rich Man and that will give a good idea what this sounds like.)





The body has a Yellow Heart core, with laminations of walnut, quilted maple and the stunning birdseye maple faces. The neck is a Dan Electro that has been modified with peg-head laminations and re-finished in nitro lacquer. The tuning machines are locking Sperzels. The peghead emblem is a slice of English walnut (the actual nut).





The pickups are Duncan BassLine units. The bridge and tailpiece are hand-carved cocobolo, the saddles are hand-cut brass.
Currently listed on eBay with a Buy It Now price of $1,400.
G L Wilson
© 2013, Guitarz - The Original Guitar Blog - the blog that goes all the way to 11!
Please read our photo and content policy.