guitarz.blogspot.com
: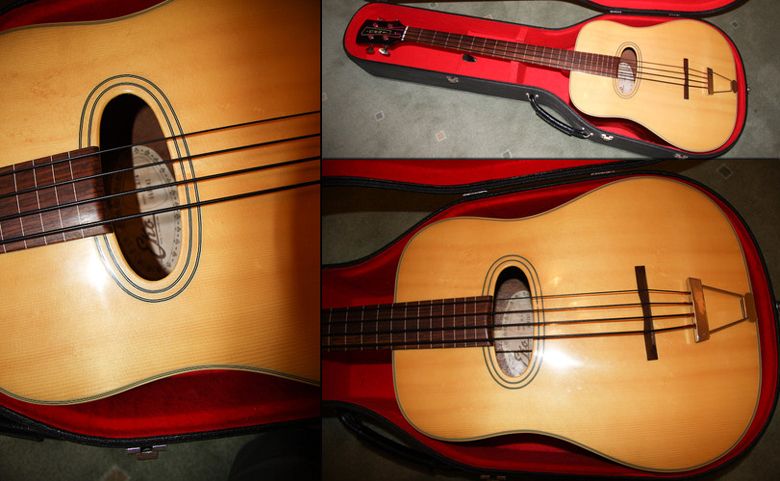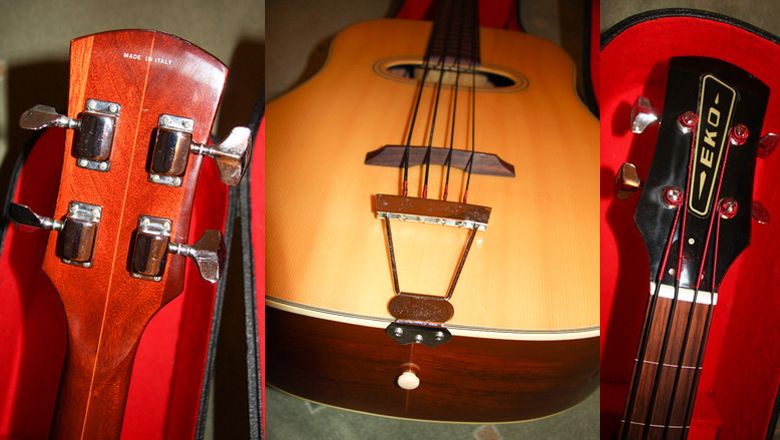 Although it wasn't the first acoustic bass guitar, and not even the first production model acoustic bass guitar (it was pre-dated by the
Ernie Ball Earthwood
and, I believe, by a Guild acoustic bass), the Italian-made
Eko B4
was for many the first affordable and readily available acoustic bass guitar. These basses started cropping up everywhere in the early 1980s. The example pictured here is a
Eko B4 N lined fretless acoustic bass
, and even appears to be fitted with either the original plastic-coated tone-robbing strings or else a very similar modern replacement set. Anyone wishing to get a half decent fretless sound out of these basses pretty quickly ditched the horrible plastic strings and replaced them with a decent set of roundwounds.
In many ways Eko led the way with these distinctive looking basses (the oval sound hole was a nice design touch, whereas the trapeze behind the bridge was pure common sense given the tension created by a set of bass strings). The "Unplugged" craze following MTV's series of the same name was just around the corner (the first MTV
Unplugged
act was Jethro Tull in November 1987), and very soon many of the major guitar manufacturers were offering acoustic basses.
These Eko acoustic basses were purely acoustic, although I believe they did later offer versions equipped with piezo pickups. Unlike many modern acoustic basses which rely on on-board electronics to even be audible, the body was large enough to allow proper acoustic playing without need to amplify to be heard above your mates playing acoustic guitars.
Currently listed on eBay UK with a starting bid of £150. Includes a supposedly prototype never-went-into-production hard case.
G L Wilson
© 2013, Guitarz - The Original Guitar Blog - the blog that goes all the way to 11!
Please read our photo and content policy.