guitarz.blogspot.com
: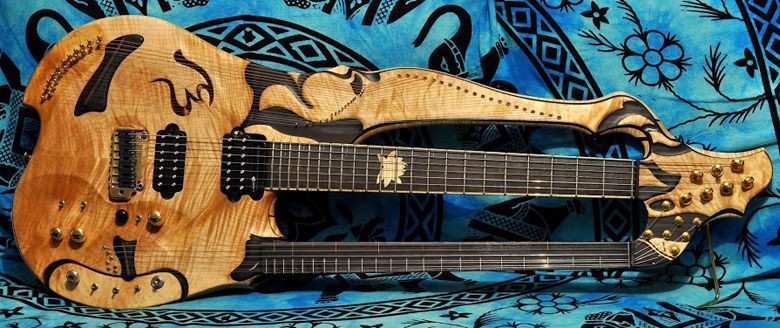 Well, this is certainly a very eye-catching instrument. I'll allow the luthier responsible for this remarkable creation tell you more:
My name is Michele Benincaso, born in 1976 , I'm an Italian luthier and I live in Stockholm since 2007.





My interest in instrument making started more than 20 years ago, when I was 16 years old and after I listened Jaco Pastorius I pulled off the frets from my bass. After I was studying jazz and classical music on bass and double bass and I decided to move to Cremona, the city of Stradivari where the violin was born. There I studied at the international school of violin making Antonio Stradivari, and I worked on violins for couple of years before moving back to my first love: the guitar.



But that wasn't enough and I started searching something in the past for looking in to the future, and here you can see my latest instruments: http://www.benincaso.com/index.php/trikanta.html



The wood I used for the Trikanta is the same that Stradivari used for his violins (Italian Spruce, Bosnian Maple and on top of it I used 8000 years old oak

tested with Carbon 14), melted with electro-acoustic system, midi system and Fernandes Sustainer. The tools, hand curving, varnish process come from the traditional violin making school.





Kind Regards from Stockholm



Michele --- www.benincaso.com
The Trikanta features a harp neck with 20 strings, piezo system with acoustic chamber, a 7-stting guitar neck with Lundgren Pickups, Fernandes Sustainer, GraphTech Ghost acoustic/MIDI system, and a semi-fretted lower neck with 7 strings, 3 on the fretless side and 4 arranged in two courses on the fretted size, and a piezo system.
G L Wilson
© 2013, Guitarz - The Original Guitar Blog - the blog that goes all the way to 11!
Please read our photo and content policy.