guitarz.blogspot.com
:

Dan Armstrong, the man who created the line of clear lucite-bodied guitars and basses bearing his name for Ampeg, freely admits that he was influenced by Danelectro:
Danelectro® instruments served as far more than merely inspiration for the clear guitars and basses, as Dan virtually built his business on these guitars practically from day one. When Dan opened up his shop on 48th Street he almost immediately began taking Danelectro instruments and stabilizing them to make them play better.

According to the book Electric Rock© by Richard Robinson - Jesse Colin Young used a Danelectro bass in the Youngbloods® that Dan had modified.

In the same book Dan went on to say "I was in the repair business in '65. I had a repair shop and wanted something to sell and due to all the stiff competition on 48th Street I couldn't sell Fenders® and Gibsons®, there was no way to do it. I could improve the ones that people brought to me but there was no way to buy them new." The problem here was the fact that the large musical stores already held the franchise on these instruments.

Still Dan wanted something to sell, and later said "Danelectros were so doggone cheap. I could buy them new and they were basically pretty doggone good. Most of the good parts on those things were engineered in the design which I always appreciated, and with some finishing up they could have been really done well, even out of the factory. But they just didn't have time, it was an economy instrument. I've always been an improver anyway. I enjoy that kind of thing, to find something that's made almost well and try to fix it up. It was all basically right so I just took them apart and cleaned them up a little bit."

Here we see a Dan Armstrong modified Danelectro bass currently being offered for sale on eBay. This is the AMPEG tagged version with serial # DDB 90, which means it's the 90th one made. DDB=Dan Armstrong Danelectro Bass.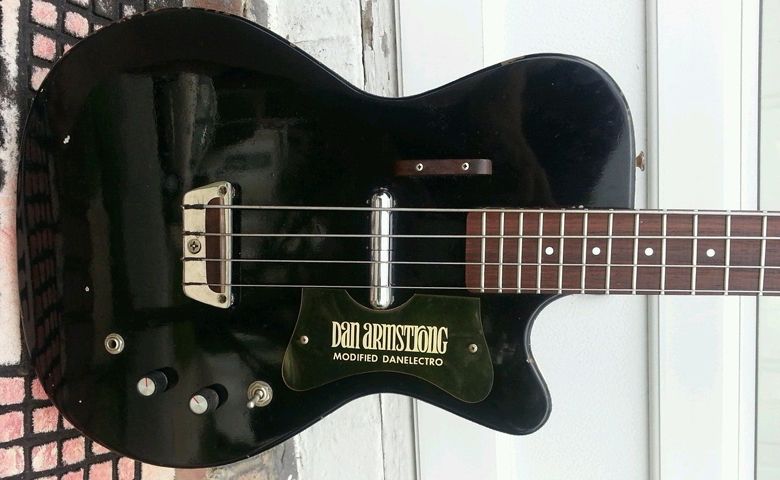 Modifications made by Armstrong to the original Danelectro design include Kluson tuners, rewound pickups,upgraded electronics, reshaped headstock, re-shaped smoother cutaway, branded pickguard, micro tilt neck, and double strap buttons on bottom so the guitar can be stood upright more safely.
Currently listed on eBay with a Buy It Now price of
S $1,499.99.
G L Wilson
© 2014, Guitarz - The Original Guitar Blog - the blog that goes all the way to 11!
Please read our photo and content policy.