guitarz.blogspot.com
: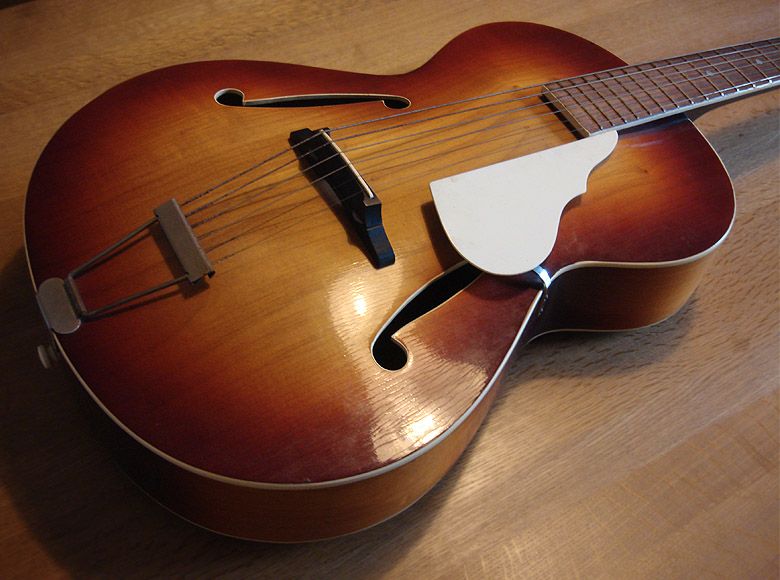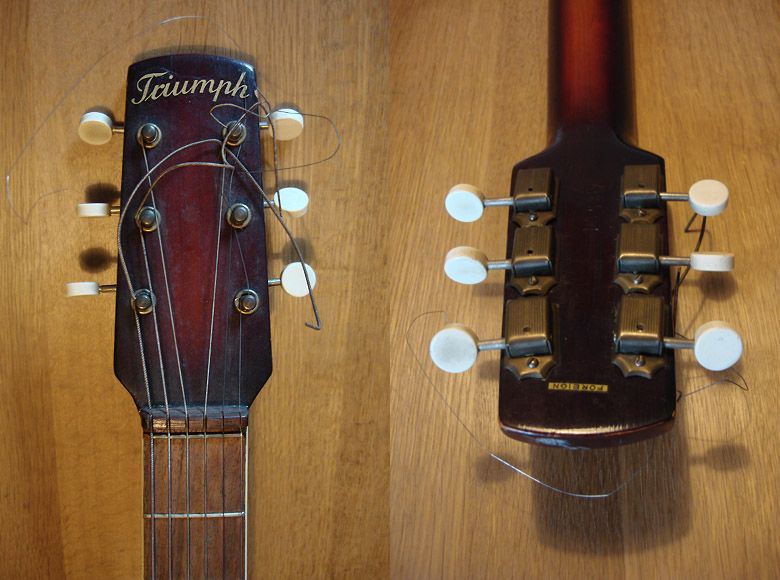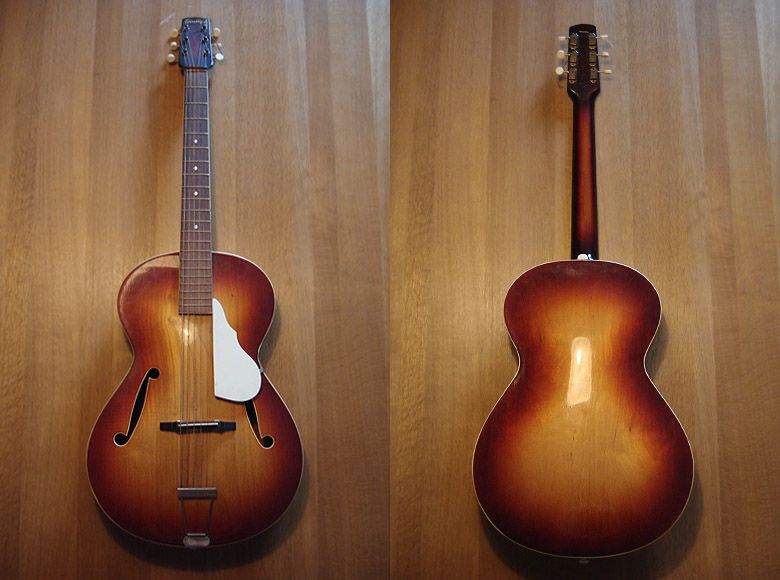 Jim writes:
Hi Gavin,



I'm a fan of the Guitarz blog, it's been a great read. I started to learn how to play last year, and I'm finding the instruments and their history very interesting.

I bought this guitar in a junkstore yesterday (pictures attached), I was hoping someone at Guitarz might be able to tell me where it's from, how old it is? It's got a 'Triumph' sticker label on the headstock with a 'Foreign' label on the back, also stamped with number '13547'.



I think it's a cheap copy, but I've kinda fallen in love with it and I'm going to get it cleaned up and looking a bit healthier. It's currently smells of old books! Hope someone might be able to fill in some it's history, as I can't find anything about it.





Thanks for the great blog - it's been a really great resource.





All the best, Jim
Hi Jim, I believe what you have got there is a
Selmer Triumph
guitar. It's hard to pinpoint it to an exact model because the Selmer Triumph name encompassed several different guitar designs and a few amplifiers too.
To give some background, Selmer were a musical instrument manufacturer established in the early 1900s and based in Paris (surely their best known guitars were the gypsy jazz guitars as played by Django Reinhardt). By 1928 they had aquired a semi-independent UK branch. From the 1950s and through to the 1970s some of Selmer UK's own-brand guitars were produced by Germany's Höfner especially for the UK market.
However, rather than being a Höfner this particular guitar looks to be very similar to the Framus Studio 5/51. We've looked at one of these before here on
Guitarz
, although
that example
was unusual in having just a single f-fole.
Speaking of the f-holes, you'll notice that these Framus guitars have very distinctive shaped f-holes which omit the crossbar of the "f".
So, in brief, Jim, your guitar would be made in Germany, most likely in the 1960s. For further information you might want to check out
this exchange
I found on an internet forum, which concerns another very similar guitar.
By a strange coincidence, it also looks very similar to a guitar owned by my friend Frank, which has recently been restored by luthier Jeff Beer.
G L Wilson
© 2014, Guitarz - The Original Guitar Blog - the blog that goes all the way to 11!
Please read our photo and content policy.