guitarz.blogspot.com
: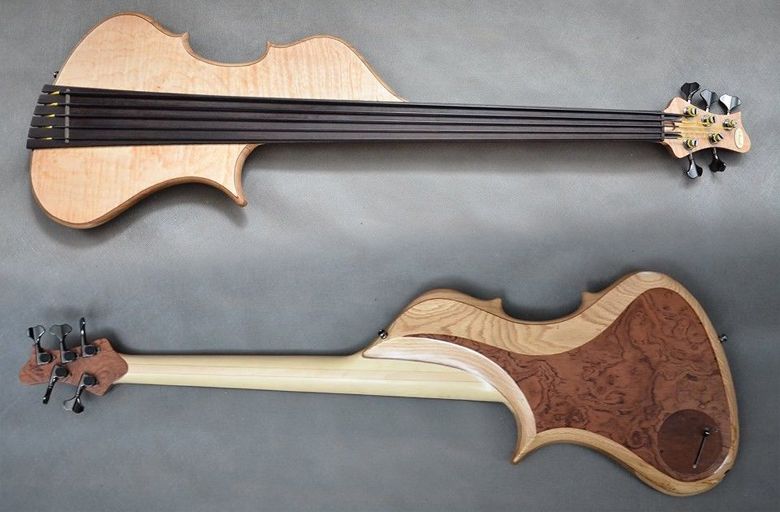 The design of this
Stradi Symphony Five-string Fretless Bass
incorporates visual elements from both the electric bass and stand-up acoustic double bass, but at the same time it is quite a minimalistic design with no visible pickups, control knobs or switches being allowed to sully the face of the instrument. In fact, the sole control on the bass is a volume slider and that is to be found located on the backplate on the reverse of the instrument (seems a weird place for it, I'd imagine it could get knocked there). Note how the fingerboard (wenge, apparently) continues all the way to the base of the body beyond the bridge, giving the whole bass a very sleek and elegant appearance.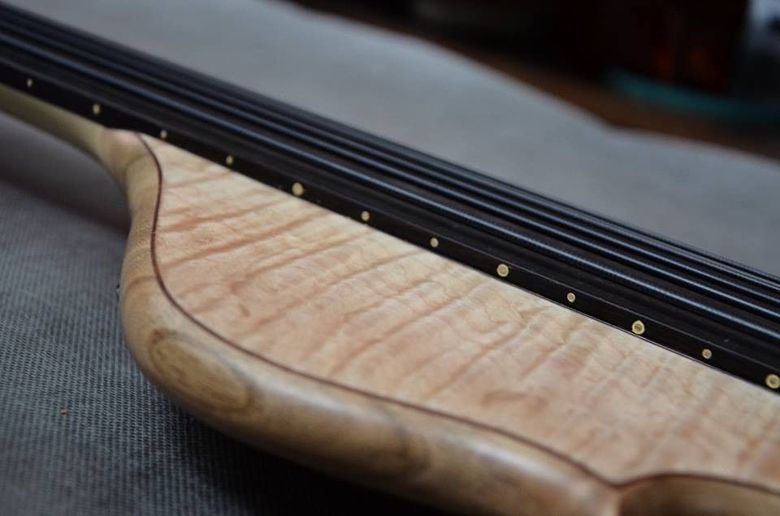 The specs are as follows:
Body
: Walnut and oak with curly maple top
Neck
: Hornbeam sides with maple center and walnut lines, two 8mm carbon fibre pipes from headstock to bridge working as resonant chambers and stiffening rods
Fingerboard
: One, thick piece of quartersawn wenge. Side dots made of brass with acrylic centre eye.
Tuners
: Gotoh
Bridge
: Black oak with Stradi cutom piezo pickup underneath
Electronics
: Stradi Sweet Transistor Preamp for piezo, Volume slide pot on backplate, 9v battery operation
Strings
: Rotosound Tru-Bass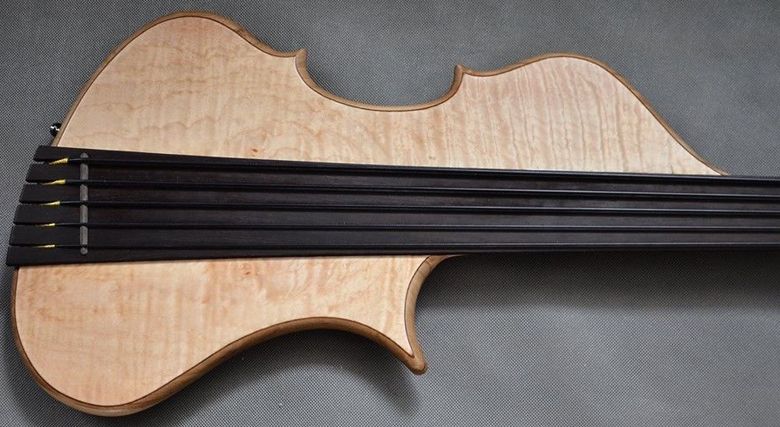 I can't say I'd personally want to keep those horrible black plastic-coated flatwounds on there. One thing that polarises fretless bass players is the whole thorny question of flatwounds versus roundwounds. I am very definitely in the roundwound camp. So, OK, they are going to mark your lovely black minimalist fingerboard - but the lovely sustain they will produced will more than make up for it. But then if you really ARE looking for an upright bass sound which is often more percussive and has a lot less sustain than an electric bass, maybe the RotoSound Tru Bass strings are worth a try?
Item is located in Poland and the starting bid is set at
US $2,470.
G L Wilson
© 2014, Guitarz - The Original Guitar Blog - the blog that goes all the way to 11!
Please read our photo and content policy.