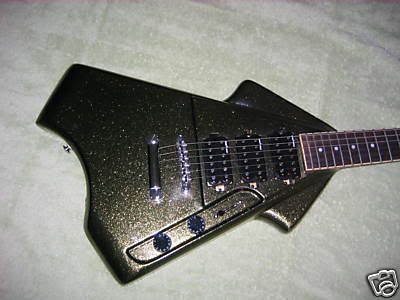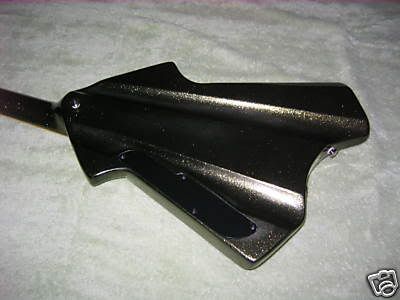 This eBay Seller
has recently had a number of
Switch
guitars for sale, and from his blurb implies that he has others "waiting in the wings" and not yet listed. These guitars feature one-piece body and neck molded from a plastic material called Vibracell, which apparently has a similar consistency to mahogany. The sustain is supposedly an improvement on mahogany, and of course being entirely wood-free, these guitars have very good green credentials.
The example pictured above is the
Future VI
model, which appears to have been influenced by a favourite guitar design of mine, the
Burns Flyte
guitar.
My local music shop stocked this brand of guitar a few years ago and had examples in some quite eye-dazzling fluorescent colours - yellow, orange, green... I was always quite intrigued by them, but I think the loud colours deterred me somewhat.
The seller of these guitars on eBay has stated that Switch Guitars, the company, is no more (despite the official website still being active, but note the copyright date of 2003-2005 at the bottom of the home page). Perhaps they were too forward-thinking for their own good. I wonder, could these weird plastic guitars be the vintage guitars of the future? I have to admit that I like them.