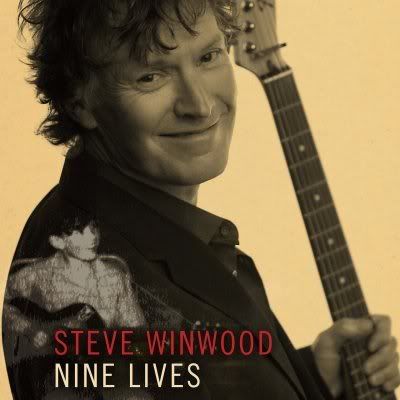 Yes, yes, I know that Steve Winwood is notoriously a Hammond organ player, but he does also play the guitar (he's pictured with a Fender Tele acoustic with f-hole on the album artwork). The album also features the not inconsiderable guitar talents of Jose Pires De Almeida Neto.
The album begins modestly with "I'm Not Drowning", a simple but very effective song featuring Winwood on his lonesome. Just voice (and what a voice!), nice bluesy acoustic guitar, and basic percussion.
Following this, "Fly" recorded with the full band is pleasant enough, although a little MOR for my tastes. For me, the song's saving grace is Winwood's voice; that and the key changes in the middle eight which are very welcome. Don't get me wrong, it's not a bad song at all, but there's much better to come on this album.
"Raging Sea" has a fantastic guitar riff - which starts off sounding pure and acoustic but gets dirtier and edgier as the song progresses, making for a great combination with Winwood's soaring vocals and - for the most part - understated Hammond playing.
"Dirty City" is an anthemic track with some classic Hammond playing from Winwood who also straps on a guitar for this song, as does Eric Clapton who provides the climactic guitar solo. I'm not always the biggest fan of Mr Clapton but I really enjoy his playing on this song. I'm even considering using the word "exciting" here as an abjective. (Whoah! Steady on...)
Things get a bit more funky on this "We're All Looking" which features latin percussion and yet more of Winwood's trademark Hammond sound. The song also has a gorgeous acoustic guitar solo from Mr Winwood himself. He's not just a Hammond player, y'know.
"Hungry Man" has some very African-sounding guitar and percussion underpinned by the ever-present Hammond and stabs of sax. This for me, is one of the standout tracks, and reminds me of Paul Weller. (Actually, I have to keep mentally chastising myself for thinking Steve Winwood sounds like Paul Weller when it should be the other way around!)
"Secrets" has a Latin shuffle feel and quite a hypnotic riff. Instrumentally it's more of the same forumla as on earlier tracks but it's a good formula! For variation there's a slinky-sounding flute solo.
"At Times We Do Forget" is classic Steve Winwood! The song boasts a gorgeous guitar figure from Neto and loadsa lovely Hammond from You Know Who.
The album closes on the ballad "Other Shore". At the time of writing (because these things can change!) this is not one of my favourites from this album. Whilst I wouldn't necessarily skip it if it came up on shuffle on my iPod, I'm not likely to single it out if I were playing a bunch of my current favourites to a friend (whereas "Dirty City" or "Hungry Man" would probably get played).
All in all, "Nine Lives" is a very enjoyable album. There's a nice separation of instruments throughout - guitars, Hammond, drums, percussion, and occasional sax and flute. Interestingly there is no bass guitar present anywhere on the album, and listening carefully it's hard to see where you could shoehorn it into the arrangements had a bass player turned up at the sessions demanding to be included.
Definitely recommended.
Buy it
here
. Listen to "Dirty City"
here
or watch the video
here
.