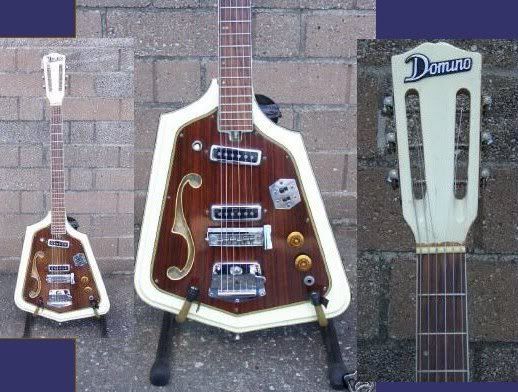 Apologies for my on-line absence over the last few days. I've had a broadband connection problem and haven't been able to get on-line at all.
Getting back on track again, here's a rarity for you. I've certainly not seen one before and haven't previously heard of the brand either. It's a
Domino Californian Rebel
, and as you may guess from the Teisco-like accoutrements it's a Japanese-built guitar from the 1960s. (
More info
).
On a different topic, did anyone see the
Eurovision Forget About The Song And Vote For Your Friends Instead Contest
this weekend? It's an outrage, I tell you. Still it was nice to see a few more guitar bands amongst the entrants (e.g. from Afghanistan and Finland). Which didn't stop the biggest pile of crap from Russia from winning. (Since when was Russia in Europe, anyway?)