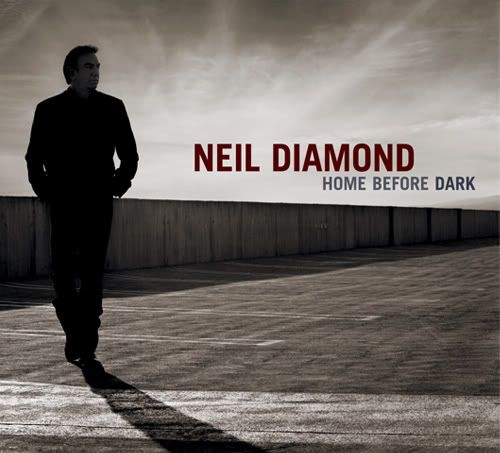 CD Review: Neil Diamond - Home Before Dark
"Home Before Dark" sees
Neil Diamond
get back to basics and start sounding like the classic Neil Diamond of yesteryear once again. Included are extensive sleeve notes from Diamond describing the writing and recording of the album. He makes it sound such an ordeal, and surprisingly expresses his concerns that others wouldn't think he songs were up to scratch. He also reveals that his fellow musicians on the album nicknamed him "Basher" because of his guitar-playing technique.
Diamond and his producer
Rick Rubin
have assembled a very competent band to back him up on this album, which they do quite admirably, never taking the limelight. This is not a band album, it's a solo album; Diamond's voice and guitar take centre stage, and this is especially apparent on the opening cut "If I Don't See You Again".
Despite repeated listenings of the album as a whole, I have to admit that the single, "
Pretty Amazing Grace
" (click to watch the video), is for me the standout track. I wondered if I'd been conditioned into this way of thinking having heard it numerous times on Ken Bruce's BBC Radio 2 show which featured the song as "Single of the Week" about a month ago. But no, I think now I've given the rest of the album a good auditioning, and this song is my favourite. It's essentially classic Neil Diamond.
"Don't Go There" gives another nod to the past with a very familiar sounding chord change that again screams classic Neil Diamond. There's also quite an interesting solo that I can't decide whether or not it is a Coral Sitar or similar.
"Another Day (That Time Forgot)", a duet with Dixie Chick
Natalie Maines
, is surely candidate for a follow-up single. It's a great arrangement, the two voices, piano, softly-strummed guitar and some other subtle keyboard textures. As with the rest of this album it's a far cry from the overblown production of mid-career Neil Diamond and is all the better for it.
"One More Bite Of The Apple", again, sounds like it could be an old Neil Diamond song from way back, although the subject matter (starting a new relationship with someone when not exactly in the first flush of one's youth) implies that this is a song written by someone of more mature years.
"Forgotten" is a song I like a lot. I really enjoy the shuffle-feel of the guitars, and is that a little percussion I can hear? (There are no drums on the album). The song starts softly and builds quite nicely. Some nice Hammond too.
"Act Like A Man" is another one that gives that déjà vu feeling. That sense of "I've heard this before, surely?" There's nice interplay between the piano and guitar on "Whose Hands Are These" - it's all the orchestration that is needed - and again there are some familiar sounding chord changes.
"No Words" is a more up-tempo number and has more of an upbeat feel to it and Neil Diamond-isms a-plenty. Isn't it great that he can write songs that make him sound just like him!
The band are much more evident on "The Power Of Two". The bass is much more prominent and the chiming guitars are positively exquisite. This tracks showcasses the talents of his backing musicians quite nicely.
"Slow It Down" starts with piano intro and the closest Diamond will ever get to doing a rap! Which isn't as bad as it sounds. Then, as the title suggests the song slows right down and adopts a lazy, almost bluesy feel which feels quite effortless, almost soporific.
The album's title track closes the album. "Home Before Dark" feels like it's an intensely personal song for Diamond. In his sleeve notes he mentions that it was inspired by a note he'd left himself to make sure his daughter was home before dark. He's tried using some different chord changes here from what you might expect, and it works quite well when the song doesn't take the predicted route. It's a soft and
personal song and sets the right tone for closing the set.
Unless, that is, you have the deluxe edition (which I didn't) then you'd have two cover versions following this song: Harry Nilsson's "Without Her" and Bob Dylan's "Make You Feel My Love". Whether or not this is a good thing, I cannot say as I have heard neither, but it seems strange to put bonus tracks after a song which definitely feels like it signals the end of the album. The deluxe edition also includes a DVD, but again I can't comment on this.
All in all, I think this is an excellent album. I have to confess that it did require repeated listenings for me to get into it (which is why it's taken me about two weeks since receiving it before I could write this review). It's not an album that I instantly liked, and wouldn't normally be my choice of music if I were CD shopping. But, having grown up hearing my Dad play Neil Diamond's records over and over (his favourite was the overture on the "Hot August Night" album - it was pretty dramatic to be fair) I do feel qualified to review this CD. It won't appeal to the more rabid fans of the electric guitar, but if you want to hear what a master songwriter can come up with on his acoustic guitar, then give it a listen.
Buy it here
.