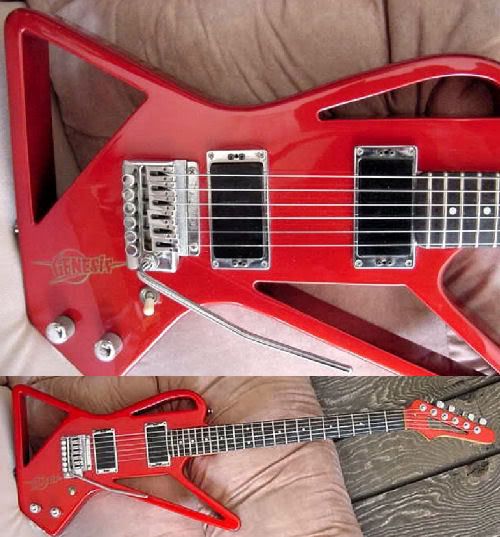 It seems that recently I've been featuring a few guitars with holes going right through the bodies (e.g.
here
and
here
) and
what do you know?...
Here's another one! (I don't actively search for these, you know, I just seem to stumble upon them without even trying.)
This one is an approximately 20 year old USA-built
Schecter Genesis
. I've previously seen pictures of these with some decidedly over the top striped graphic finishes, but I reckon this Candy Apple Red example is quite tasteful, if indeed tasteful is the word I'm looking for considering the crazy design we're looking at here.
This example is currently on eBay with quite an attractive and affordable Buy It Now price on it.
PLEASE
will someone buy it before I do, because at that price I'm finding it very hard to resist. If this was listed at the same Buy It Now price but in the UK, I would already have snapped it up. Importing a guitar from the USA involves extra shipping fees and customs charges, but despite these inevitable extras hiking up the price I'm still very very tempted (and shouldn't really...).
I mean, c'mon, how often do you see one of these?