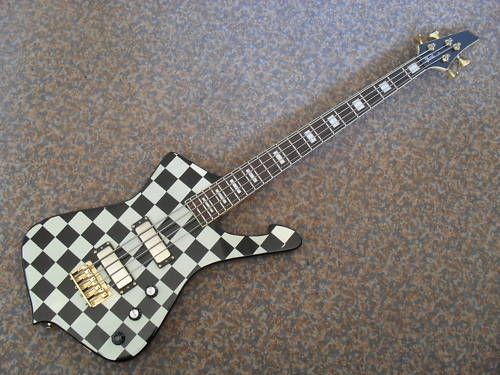 guitarz.blogspot.com
:
This
Ibanez Iceman ICB08 Bass
is a particularly eyecatching example of a now legendary Japanese design.
Wouldn't it be fun if the control knobs were shaped like chess pieces? No, I shouldn't say that, someone will go and do it.
One thing that this blog has been doing for a while now is looking at the weird, the wonderful and the just plain outrageous guitars and basses listed on eBay.
Recently, however, I've been finding very little to get excited over. I don't know if this is just a temporary blip or if indeed I am getting jaded after years of doing this. As ever, if you see any interesting guitars on eBay or elsewhere (if it's a Strat, Tele or Les Paul, it'll need to be pretty special!) please let us know. Bear in mind that we may have featured them before (use the keywords at the bottom of the page to search what we have already featured). Please note also I'm not too keen on taking photos from guitar forums or personal websites. eBay is, I feel, a different matter as it's in the public domain and we are helping to promote the auctions.
G L Wilson
Guitarz - The Original Guitar Blog - now in its 9th year!