guitarz.blogspot.com
: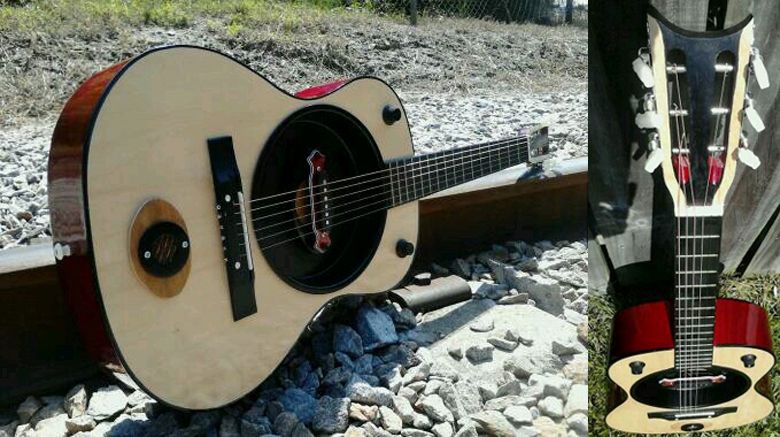 The eBay listing for
this Highway Key supposed "resonator guitar"
starts as follows:
You are bidding [

No, I'm not, I'm just looking

] on a one of a kind, custom made acoustic/electric resonator from Highway Key Guitars. This model is # 29 in a limited series. Vintage blonde Sprucetop classical body. Comfortable red stained neck and back.Unique steel "cakepan" floating resonator pan houses hotrodded single coil pickup wired to vol/tone & 1/4in jack covertly placed on back. Blacked out reso pan and knobs compliment the custom headstock. This is a Blonde Bombshell!
Excuse me, but a true resonator guitar features a spun steel cone which has the BRIDGE of the guitar floating at its centre point. I can't believe that the same sound can be achieved by someone cutting a large hole in the top of a cheap acoustic guitar and shoving a cake tin into it. If this
thing
pictured here has any kind of mojo or idiosyncratic sound (most likely some subjectively "interesting" rattling noises), it must be purely accidental.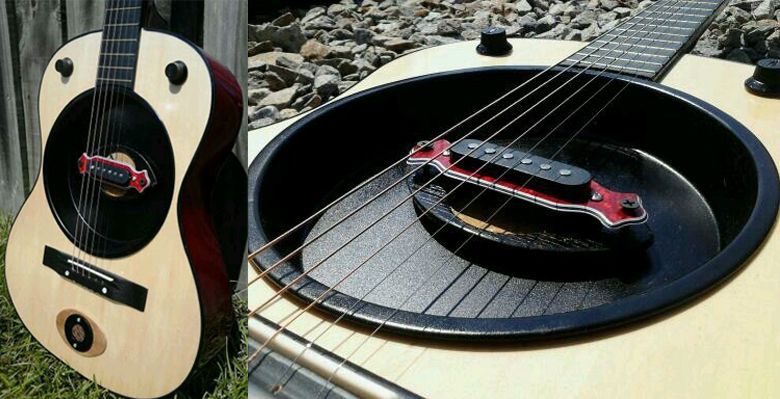 Currently listed on eBay with a Buy It now price of $269.
G L Wilson
© 2013, Guitarz - The Original Guitar Blog - the blog that goes all the way to 11!
Please read our photo and content policy.