guitarz.blogspot.com
: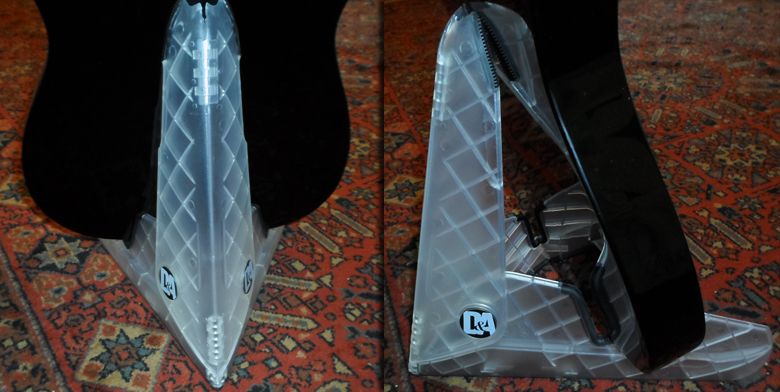 I'm only an amateur musician but even I find that whenever I'm going out to practice, to guitar clubs, open mic sessions, or whatever, I inevitably have to cart around a whole bunch of gear with me: there are usually two or three guitars (acoustic, electric, sometimes a bass VI); amplifiers; my pedal board and various effects pedals; my song books; and of course all sorts of accessories, capos, tuners, leads, etc. This usually involves a lot of trudging back and forth, to and from the car at either end of the journey and having to carry large, heavy, and often awkward-shaped pieces of gear. So, I'm all for anything that helps minimise this kind of baggage.
I've been really impressed with the
D&A Guitar Gear Icestand
. The Icestand is a very conveniently-sized portable guitar stand which, although made from plastic, utilises lattice ribbing and reinforced joints so that it is able to support even the very heaviest of guitars. The manufacturers claim that it has an "insane strength" and indeed are so confident in this product that they
guarantee it for a lifetime
. The Icestand itself weighs approx 20 ounces (that's less than 0.6 kg) and in its folded-up state is small enough to fit inside your guitar case. Other guitar stands are often very awkward shapes to be carrying around, and are one of those items that because of their inconvenient shape that I personally find I overlook and end up forgetting because they don't fit nicely into my box of accessories.
It's also safe to use with any vintage guitars you may have in your collection, for the Icestand has a soft polymer material covering all points of contact between itself and the guitar, ensuring that your guitar's finish is protected. It is safe for all guitar finishes.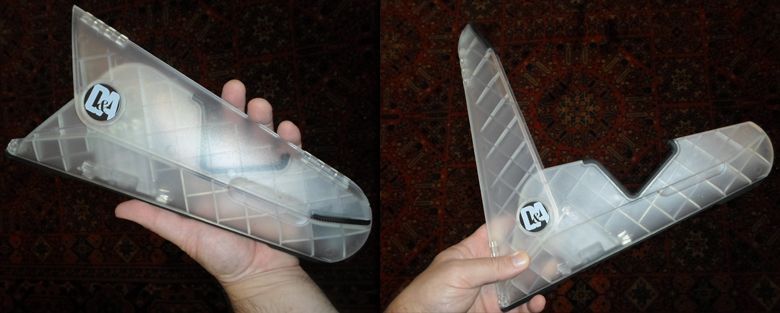 The Icestand comes in two models, one for
electric guitars
and the other slightly larger version for
acoustics
.
I ought to point out that the Icestand is not suitable for all guitars; I briefly tried standing my Fender Bass VI on the Icestand and it was immediately apparent that it was going to fall over as soon as I took my hand away from the neck of the instrument. So, I do not recommend it for guitars with offset bodies (e.g. Fender Bass VI, Jaguar, Jazzmaster, Jazz Bass) and I wasn't even going to try it with my Ovation Breadwinner, but of course for the majority of electric guitars and basses it will be fine, e.g. Strat, Tele, Precision Bass, SG, Les Paul, and most other designs that don't feature irregular or offset shaped bodies.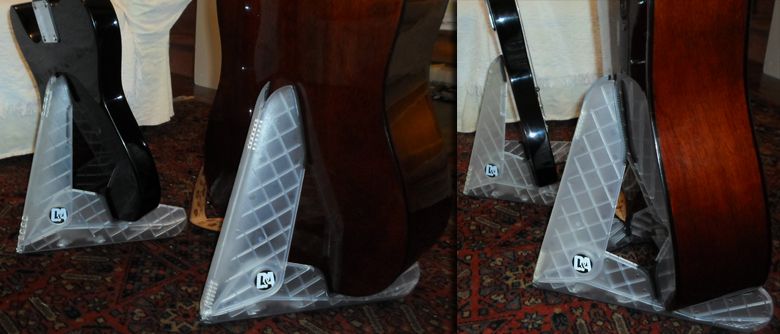 D&A Guitar Gear
, by the way, is the brainchild of
RKS Design
, a research, strategy and design firm. Some of you may recall their sadly discontinued venture into their own line of
innovative guitars
.
G L Wilson
© 2013, Guitarz - The Original Guitar Blog - the blog that goes all the way to 11!
Please read our photo and content policy.