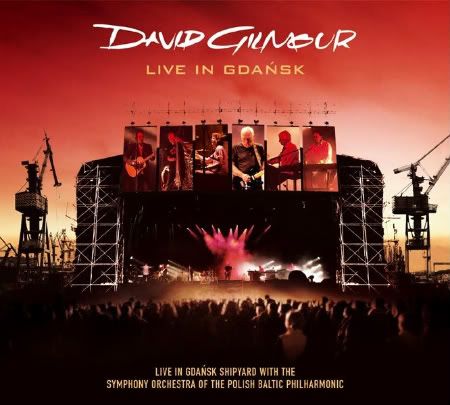 ...or to give it its full title, "Live in Gdansk Shipyard with the Symphony Orchestra of the Polish Baltic Philmarmonic", my review copy is a double CD set, although a quick glance at Amazon shows me that there is also a 3-disc set, a 4-disc set, and a deluxe 5-disc boxset. Sounds like too much choice to me. Aside from the DVD, the extra discs seem to have quite a lot of filler on them - the same songs but from different venues on the same tour. I wonder if anyone is bonkers enough to buy the lot?
Anyway, as I said, I have the bog-standard two-disc version with no DVD, so that's what I'm going to be talking about here. Roughly speaking Disc 1 seems to be mainly Gilmour solo material (lots of tracks from "On An Island" which are all nice enough although not earth-shattering) whilst Disc 2 is largely composed of Pink Floyd numbers. This caused me to ponder the fact that with Richard Wright on board on this tour, it's more or less latter-day Pink Floyd in all but name anyway. They just have a different drummer, and of course Roger Waters was long gone in the latter-day Floyd anyway. (On a sad note, this release has become the swansong for Richard Wright who died last month).
So, what's it like? Well, if you are a fan of Pink Floyd and/or David Gilmour then you'll probably love it. You might even want to buy the posher editions with the extra bits and pieces. It sounds like a really atmospheric concert. The audience are clearly loving it. The sound is absolutely faultless. The playing is all perfectly executed.
So why did I find the whole thing so dull?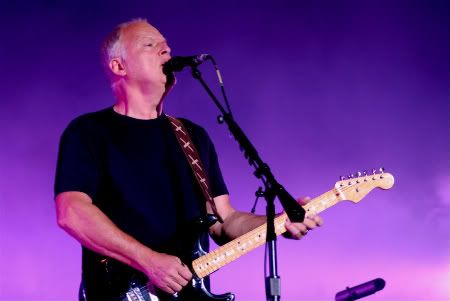 Somehow it all feels too safe, too respectable. In their day Pink Floyd had a bit of an edge to them, and that seems to be lacking here. There are some intense guitar solos, as you would expect from the Strat-wielding Gilmour, but even these feel sanitised to my mind.
I'm not saying that it's a bad set, it's just for me that it lacks excitement. It just isn't stimulating. Perhaps you had to be there. Perhaps I needed the visuals and would have found the DVD edition more to my liking.
This is the sort of music that I'd put on as background music if I wanted to chill out. Somehow that seems wrong for someone from Pink Floyd.
If you are a fan, ignore me, you'll probably love it.
Buy it here
.