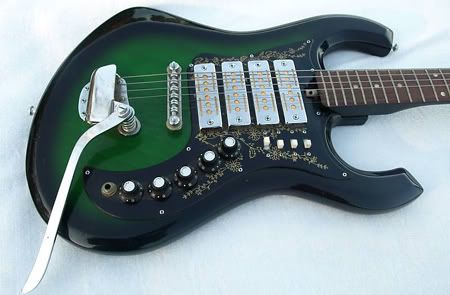 You just don't see guitars with 4 pickups these days, do you? Not comtemporary instruments, that is. Those 4 pickups on this tasty greenburst
Kimberly
have a Teisco look to them. As another Japanese guitar this Kimberley could well have been made at the same factory that produced Teisco guitars. It's not just the pickups which are in abundance. Just look at all those knobs and switches!
On the subject of guitars with a crazy number of pickups does anyone remember a photo in an early edition of the UK's
Guitarist
magazine which showed a reader's Stratocaster which he had fitted with nine single coil pickups and a whole bunch of switches? I'd love to see that picture again.
(I'm aware of the Music Man Spinal Tap guitar with 4 humbuckers before anyone mentions it. They also had a bass with six pickups.)