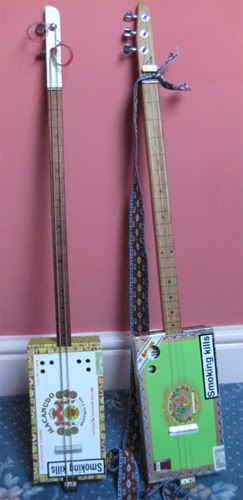 I've just added another guitar blog to my blogroll.
Smojo Cigar Box Guitars
is a fascinating look into the world of cigar box guitars (or CBGs). The blog's author, David, got the CBG bug a couple of years ago when he tried one for the first time. He was then intrigued enough to turn his hand to building his own. His blog documents the CBGs and cigar box amps that he has built and also covers related matters such as playing techniques.
I've not tried a CBG myself but have always found them most appealing. One of these days I'm going to have to dip a toe into the CBG ocean. I admire the whole concept - they are basic raw instruments and are the ultimate recycled guitar.
Also, check out
David's CBG videos on YouTube
to hear how they sound.