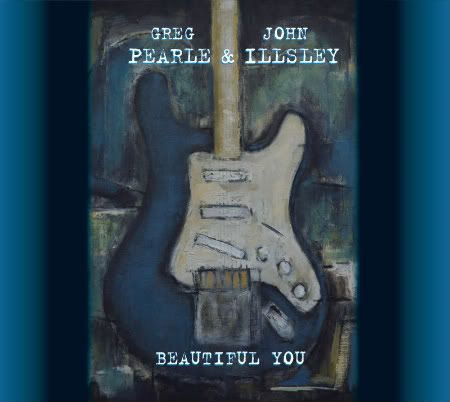 This album was released a week ago and I've had it on heavy rotation since then. John Illsely is a name that a few of you might recognise; he was bassist for Dire Straits. Irish singer songwriter Greg Pearle, on the other hand, is not so well known. Illsley allegedly heard him performing at a pub gig in Lincolnshire and was captivated by his unique voice.
The press release that came with this CD likens Pearle's voice to Tom Waits, Van Morrison and Chris Rea, and I can certainly agree with the latter. However, I know I shouldn't really make such obvious comparisons, call it sloppy reviewing if you will, I can't help feeling that Pearle's gravelly voice occasionally reminds me of Mark Knopfler, although I think he's actually a much better singer. You can imagine that he'd do justice to any Dire Straits songs these two choose to perform live. In other places such as on "Got No Plans" you could almost mistake him for a younger Neil Diamond.
Both Pearle and Illsley play acoustic guitars throughout the album, whilst Illsely also provides lead and bass guitars. I'd always thought of him as a bassist and was thus a little surprised at the quality of his tasteful lead guitar playing. He's a nice understated player - nothing too flash - just adding what is required by the song. Sorry - but making the obvious comparisons again - sometimes I think I can detect a certain Dire Straits-ish quality to the guitar. Perhaps the fact that the album was recorded in Mark Knopfler's studio meant that Illsley was able to use Knopfler's set-up or perhaps I'm just imagining this.
Guy Fletcher from Dire Straits is also on board providing keyboards, string arrangements and some lap steel guitar on "Precious". His keyboards on "Love Let Me Breathe" remind me of Steve Winwood and his Hammond organ, which is no bad thing.
The opening cut "Secret Garden" is one of my favourites - acoustic guitar driven and embellished by a gorgeous sounding horn section. My only problem with this song is that is fades out far too quickly.
Of the other tracks, "One" starts off with some folksy Irish whistle playing but turns into a rock ballad with that (possible) Straits-esque lead guitar sound and "Loving You" has yet more of that gorgeous Stratocaster tone. "Got No Plans" features cittern playing by John McClusker. It's quite an exotic sound, almost middle-eastern in feel and takes the song in an unexpected but welcome direction. "Demons" reminds me of Phil Lynott's "Diary of a Blues Singer" - it must contain a similar chord progression. Complete with a smoky sax solo this a song that you could imagine listening to late at night at a sophisticated club. It oozes class.
Actually the whole album has that late night laid-back mood. I didn't originally think it would be my kind of thing, but I was very pleasantly surprised at the quality of the songs, the production, and at how much I ended up enjoying it.
Why not hear for yourself? The tracks "Secret Garden" and "One" are available as free download from
www.johnillsley.com
.