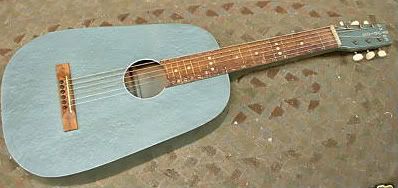 When I first saw the picture of this
Astor Studios Hawaiian Guitar
my immediate though was, "That's a short neck! Joins the body at what? The tenth fret?"
Then I realised that it was a hawaiian guitar and would be played lap-style. Nevertheless it's a peculiar looking instrument. It looks almost as if you could use it as a small boat or coracle. Its shape also reminds me of the now legendary
wheelbarrow bass
.
The seller estimates that it might date back to the 1930s or 1940s. What appears to be a dull grey finish in the photo, is actually a green marble.