guitarz.blogspot.com
: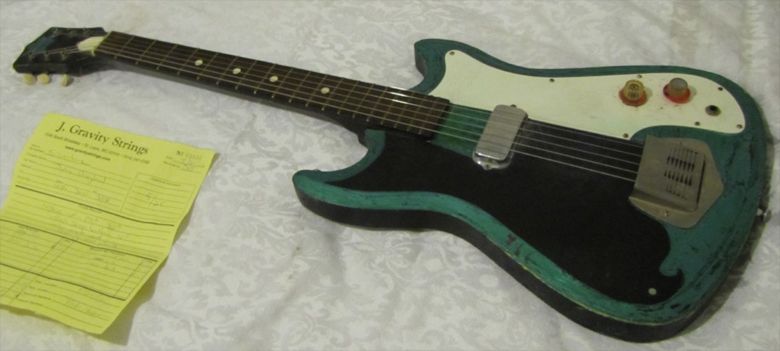 The
Silvertone 1413 guitar
and its sibling the tremolo-equipped 1417 were only part of the Silvertone catalogue for 1963-1964. These guitars were built for Silvertone by Kay, Silvertone being the brandname for musical instruments sold through Sears. Unfortunately this example would have been a lot cooler if someone hadn't painted it black at some point in its life; having scraped away only some of the black paint to reveal some of the original metallic green finish hasn't helped matters a great deal.
I thought at first that the guitar was missing a bridge, but checking on the catalogue pics uploaded on the
Silvertone World
website it does appear to be accurate. I guess I was forgetting its a short scale guitar - or at least not very long in the body - and expected the bridge to be further forward. Silvetone World also offers the tidbit of information that:
The 1413s most famous role was probably onscreen with Cap'n Geech and the Shrimp Shack Shooters in the Tom Hanks film 'That Thing You Do.'
The 1413 retailed for $39.95 in 1964. This example is listed on eBay with a But It Now price of $395, suggesting that it is 10 times more valuable now than it was new.
G L Wilson
© 2012, Guitarz - The Original Guitar Blog - now in its 10th year!