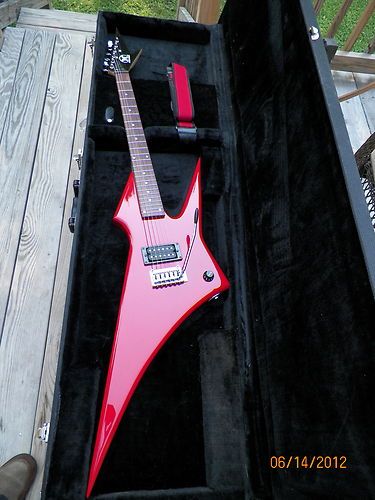 guitarz.blogspot.com
:
Here's another 1980s offering from Hondo guitars - reviled in some quarters and loved in others. It's a
Hondo II H-1
from the 1980s with body styling obviously based on the now legendary Gibson Explorer but with the pointiness factor taken to the extreme.
Hondo guitars offered a budget range of instruments made in Japan and Korea. The company was originally formed in 1969 by Jerry Freed and Tommy Moore of the International Music Corporation (IMC) of Fort Worth, Texas, working in conjunction with the Samick Company.
It's interesting to note that Hondo was one of the first overseas companies to offer American-made DiMarzio pickups on their guitars - that surely would have made the purchase of a Hondo guitar all the more attractive to the prospective buyer with a strict budget in mind.
The H-1, looking perfect for hair metal bands, is almost certainly a Korean-made Hondo coming from the latter part of the 1980s (Hondo moved guitar production to Korea in 1983). I think if I had a bandmate who played one of these, I'd keep my distance through fear of being impaled.
G L Wilson
© 2012, Guitarz - The Original Guitar Blog - now in its 10th year!