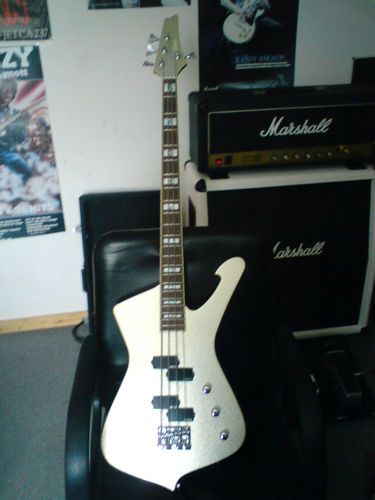 guitarz.blogspot.com
:
With a starting price of €600, this silver sparkle
Greco Mirage Bass
with two split P-Bass style pickups is currently listed on eBay by a seller in France; which is interesting because it's quite unusual indeed to see these guitars outside of Japan.
But I know what you're thinking... "Surely, it's a copy of an Ibanez Iceman?"
Well, no, it isn't. The Mirage/Iceman was designed in the mid 1970s by a committee consisting of Hoshino (Ibanez), Kanda Shokai (Greco) and leading Japanese guitar manufacturer FujiGen. The resulting guitar was marketed by the different distribution companies in different global markets, and so the guitar we think of as the
Ibanez Iceman
was marketed outside of Japan, but within Japan the same guitar was marketed as the
Greco Mirage
.
To confuse the story a little further, early Ibanez examples were known as the
Ibanez Artist 2663
, the name being changed to Iceman in 1978, so this guitar has legitimately appeared under three different guises none of which can be said to be a derivative of the other.
G L Wilson
© 2012, Guitarz - The Original Guitar Blog - now in its 10th year!