guitarz.blogspot.com
: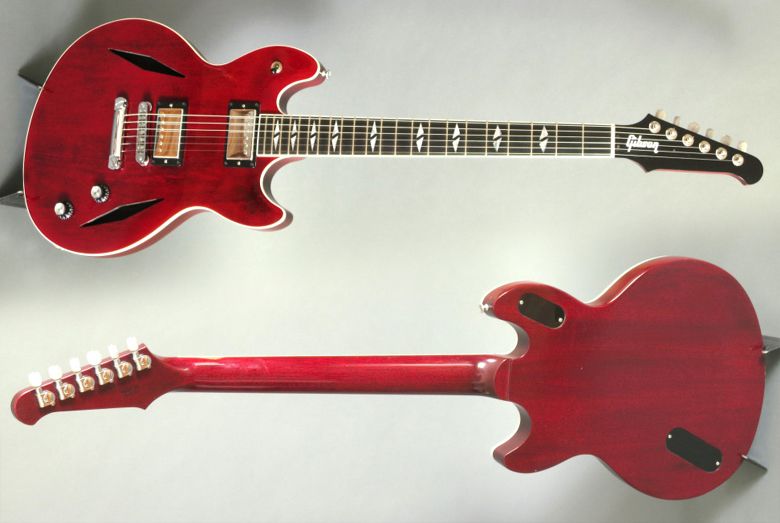 The
Gibson Vegas Standard
was only produced for two years; I'm guessing it just wasn't traditional enough a Gibson for most guitarists' tastes. Whilst many of the features of the guitar are Gibson trademarks - the Trini Lopez "diamond" soundholes, the Firebird headstock - to have them embodied onto a single instrument was quite unusual. Even more unusual is the fact that the Vegas is a flat-top guitar and not an archtop as you would expect from a Gibson semi-hollowbody. In fact, I'm not 100% certain we should call this a semi-hollowbody because the construction is quite different. It's more of a "thinline" with a flat top mounted onto a chambered back, and as such has more in common with guitars such as the Fender Telecaster Thinline than to any other Gibson models. In fact, speaking of Fender, its slightly offset body shape make it look something like a slimmer Fender Starcaster (the original semi-hollowbody Starcaster that is, not the budget Strat knock-offs). The neck on this guitar does give the impression of being quite long as if this guitar might have a Fender-like 25.5" scale, but it must be an illusion caused by the small (for a Gibosn semi) body, for the scale length is Gibson's usual 24.75". It's a good looking guitar and proof that Gibson are not always content to live in the past and rely upon their historical designs.
Currently listed on eBay with a Buy It Now price of $1,399.
G L Wilson
© 2012, Guitarz - The Original Guitar Blog - now in its 10th year!