guitarz.blogspot.com
: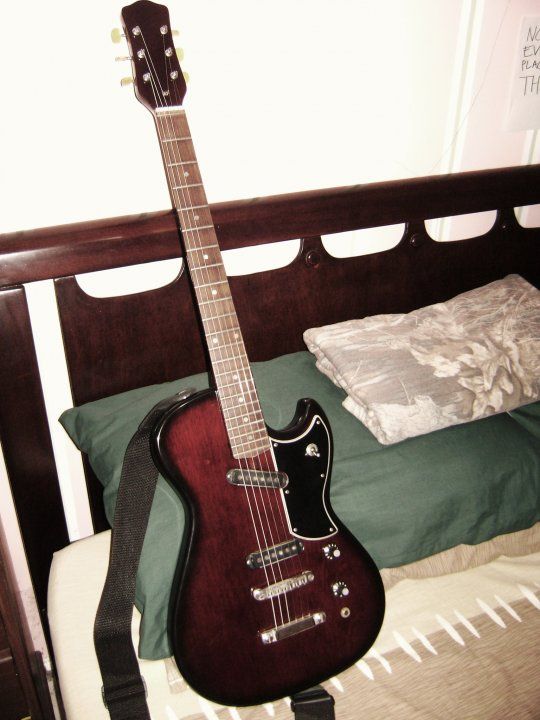 We've had another email from our friend Francis (who previously shared photos and info about
this guitar
and also
this guitar
with us) who writes:
Hello Guitarz! Francis again. I always forget to ask you guys about this on the Guitarz blog but I used to own this weird mash-up of a presumably Japanese guitar (it's my girlfriend's now, so I still see it all the time). It's definitely way above the Teisco/Kawai/Guyatone threshold of build quality.





Here's where it gets weird: The tuners have split shafts like Klusons and are three uncovered gears on a plate with heavily yellowed buttons. The headstock shape reminds me a lot of those old Danelectros while the neck dimensions are pretty close to Fender Strat width, 25.5" scale, skinny overall thickness and 12" radius with a D-ish profile. It also has really low frets and a zero fret a la Mosrite. The Dano U2-inspired body is about an inch and a half thick with an odd stoptail that I only remember seeing on some Japanese "lawsuit" LPs. Bridge is a regular Tune-O-Matic. The finish on the whole guitar appears to be somewhere between cherry and walnut with a very slight burst pattern towards the body edges. I'm really not certain if this is poly or nitro. I do remember leaving a strap on it for a while which left a slight depression in the finish following the strap's fabric pattern. The body appears to be a single piece of mahogany, as does the neck. Pickups are Jaguar pickups complete with "claw". The electronics are full-size 500k pots, and a REALLY heavy duty toggle switch. Lastly, apart from an SG-inspired pickguard, the guitar also has an offset waist and feels a bit like a Duo-Sonic or Musicmaster when played standing up.





I really hope you or your readers could help me identify this. It's an interesting piece that I see my girlfriend and I using for years to come

.
Hi Francis. That is indeed an oddity. It has an Harmony/Kay vibe to it, and I'm not sure if I've seen an offset waist on a singlecut body before, but I like it! I'm afraid that I personally cannot identify this guitar but perhaps our readers may be able to help?
G L Wilson
© 2013, Guitarz - The Original Guitar Blog - the blog that goes all the way to 11!
Please read our photo and content policy.