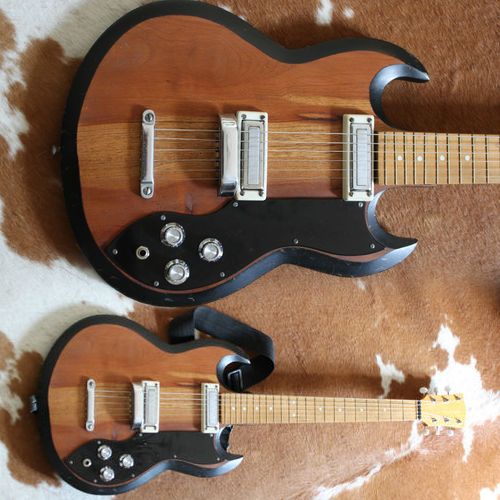 guitarz.blogspot.com
:
I wonder if vintage South American-made guitars could be the new collectables in the same way that "Behind the Iron Curtain" soviet-era guitars from Russia and Eastern Europe are becoming quite sought after in certain quarters. Here we see a
vintage Argentinian-made guitar that has been quite clearly modelled after the Gibson SG
. Note that, as on certain other SG-derived copies, the body shape here is symmetrical, but of course on a "proper" SG the body horns are slightly offset with a bias towards the bass-side. I think the eBay seller hits the nail on the head with the following observations:
Did you know Argentina produced lots of superb electric stringed instruments in the 60's? Honestly, we didn't. Argentina suffered in the end of the 20th century a string of political and economic problems before recently recovering, but it was until the 70's one of the world's most advanced nations, with a cultural creativity that had nothing to envy to Europe. Given its geographic isolation, the country could develop a guitar industry all of its own.





These are the most European guitars ever made outside of Europe. They look like coming from a parallel but similar universe. Besides economy models there are highly elaborate artefacts, extremely well made in every detail. Some of them have shellfish-shaped peg buttons that are among the coolest things ever seen on an electric instrument. Who wouldn't want a guitar like that to grace his collection?
Currently listed on EBay in Italy with a possibly unfortunately optimistic Buy It Now price of €850.
G L Wilson
© 2013, Guitarz - The Original Guitar Blog - the blog that goes all the way to 11!