guitarz.blogspot.com
: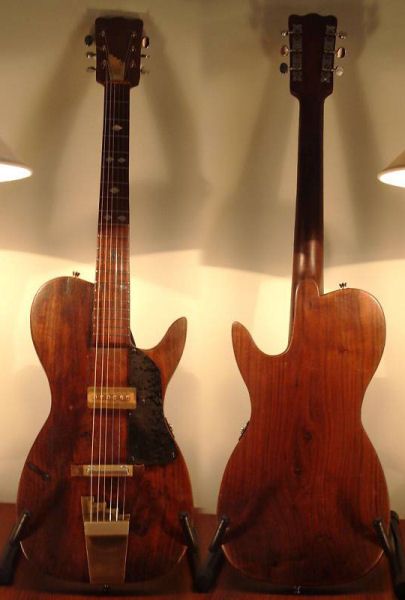 The auction for this
homemade electric guitar
is finishing on eBay very soon. I love stuff like this; it's a case of a guy wants an electric guitar so badly but the only way he's going to get one is to build it himself. Luckily he gets some sound advice from a legend!
I'm going to unshamedly copy from the text of
the auction
itself, as it's quite a long story:
My grandfather served in the Korean war and was entertained by Les Paul's band during his service, upon returning home from the Korean war he was very excited to learn to play electric guitar.

Being from an area of little means (a poor coal mining region) he decided to manufacture his own, there was a walnut tree that was struck by lighting a couple years earlier and died.

He cut down that tree and from the trunk section he salvaged a decent solid piece of wood,this was the summer of 1958, at this time he was working as a coal miner an his schedule be came demanding so he had to stop working on his guitar project,he spent many evenings studying guitar design and planed to make a conventional two piece guitar being neck and body separate pieces.

Sundays were his only day off from work and he spent afternoons at his church practicing his playing with the church orchestra, that spring at the Tula county fair, grand father learned that Les Paul was going to play three evenings he went each night bringing the walnut hopeing to show Les this wood and get advise about his guitars construction.

On the third performance grand father saw Les and his band loading their equipment on to a bus, he approched Les upon introduction grand father say's Les remebered him from the servicemans used to help for his shows in Korea;

Because of his excitement and many question about the guitar, the two of them; grand father and Les examined the walnut and Les said his guitars were two piece because the neck is made from expensive maple and to keep costs down he used adler for the body,but he suggested since the walnut was large enough why not try to build a solid one piece guitar and he gave grand father an address to write him and send a photo when it was completed.

By june 1959 grand father completed the shape of the body, sort of stratocaster style with a thick neck, he felt a thick neck for strength and his large hands would be best.

At that same time a neighbour's home caught fire and burned, this neighbour played guitar an as it happened his Silvertone acoustic guitar's body was destroyed, my grand father asked for it's remains and he salvaged the finger board nut and tuning keys.

Grand father wanted to customize the fingerboard so he cut chrome pieces from the bumper of an old car shaped them and inlayed the chrome into the finger board, also from the burned home he took from a dining table a piece of formica, a faux pearl table's top surface and applied it to the headstock surface.

At this point he bought a used tail piece, a bridge and strings and he was playing his new guitar he recalls his total cash investment was under four dollars, he was very happy and after a few adjustments everyone agreeded that the guitar played very well.

Grandfrather Oven had some pictures taken and he mailed the pictures to the address Les paul had given him, along with the pictures he sent a letter asking for help with how he was going to install some pickups, to grandfathers amazement Les paul sent him two single coil pickups that he had wound by hand while developing a design in 1952 along with a diagram and two pots for volume and tone, Les asked for him to route two pockets to set the pickups into, grandfather was afraid the pockets may weaken the body causeing it to crack, so he screwed the pick ups to the top of the body as well as the pots with wires external as well.grandpa Oren played his guitar at church for fifteen year he studied jazz and played at the same fair where he recieved help from Les Paul many years earlier.

My grand father retired in 1965 and moved to New Orleans Louisana so he could play jazz and learn more about the music he loved, this was the only guitar he ever owned,he joined a band called the Bluzers and played at many night clubs in the french quarter, a down town section filled with blues and jazz clubs.

In 1979 grand father passed away, his grand son my twin brother Gene Du Buque wanted to learn to play and so he inherited the guitar, my brother learned to play on this instrument,he liked the sound but felt the guitar was ugly.

He removed the pick ups and disguarded the guitar. Gene put the pick ups in a fender telecaster and later sold the telecaster,I kept the guitar, over the year i often thought it would be wonderful if some one might appreciate it as my grand father did, so Denis may it bring you happyness.

This guitar sustains longer than any guitar i've ever seen I attribute this to it's one piece construction;

Cheers

Lyle Du Buque
(
sic
, throughout)
I think that's a great story. It's nice to know that the guy used the guitar throughout his musical career. I bet it had that certain mojo. Great also that the grandson learnt to play on the same guitar. I think, however, that it is such a pity that the guitar is not now destined to stay in the family.
G L Wilson
NB: There are a lot of blogs STEALING content and bandwidth. If you read this anywhere else but on guitarz.blogspot.com then you are reading a blog that STEALS content. Please support original bloggers!