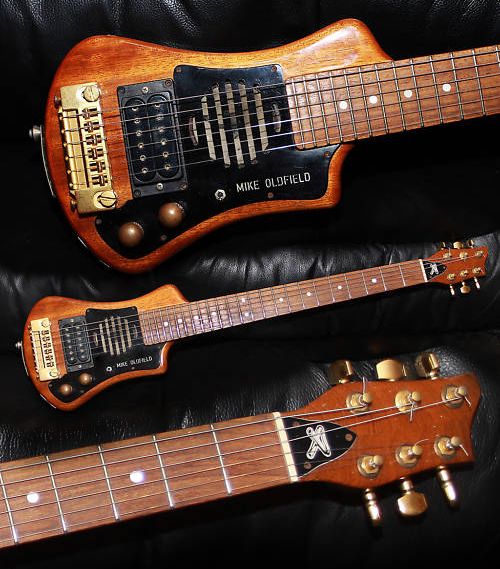 guitarz.blogspot.com
:
We've seen one of
Mike Oldfield
's guitars
up for auction
previously on
Guitarz
. On that occasion it was his ex-Marc Bolan Telecaster which was the main lead guitar used on his now legendary
Tubular Bells
album.
This time, it's a
one-off travel guitar with integral amp and speaker
which was presented to Oldfield by the German arm of his record company, Virgin. The guitar appears to be modelled along the lines of a Hofner Shorty (possibly it
is
a customized Hofner Shorty) and bears Oldfield's name on the pickguard and has a Tubular Bells logo on the trussrod cover.
I remember seeing Mike Oldfield demonstrate this very guitar on a Breakfast TV show back in 1983 (or thereabouts) during an item in which he was showing off part of his guitar collection. I've tried and cannot find this clip on YouTube. I believe he mentioned taking it with him on aircraft flights. I couldn't say if it was ever used on any of his records; I suspect that it was purely a practice guitar.
G L Wilson
NB: There are a lot of blogs STEALING content and bandwidth. If you read this anywhere else but on guitarz.blogspot.com then you are reading a blog that STEALS content. Please support original bloggers!