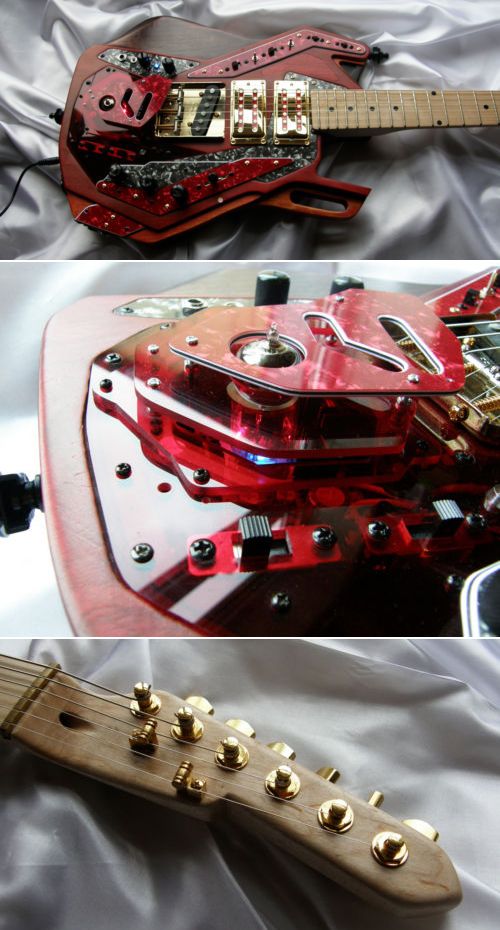 guitarz.blogspot.com
:
Leo Fender's design for the Fender Telecaster dates back to 1949 and over the years we have seen Fender and a myriad of other guitar makers take this very basic design and tweak it and modify it into something new.
Ultima Guitars take the basic Telecaster template and re-sculpt it, add exciting pickup combinations and clever switching options, on-board amplifiers and effects. You could consider their guitars evolved Telecasters although often only the basic outline and the famous Tele bridge provide the only clues as to the guitar's design heritage.
This particular
Ultima Firebird
(ignore the Gibson-esque name, it isn't relevant) has a highly resonant chambered body of alder and mahogany, a 70s Tele style C-section maple on maple neck with brass nut, Sperzel USA machine heads, Fender Telecaster vintage bridge with handwound pickup (made in UK), two high output boutique humbuckers (made in UK) in the neck and middle positions, Schaller strap locks...
plus
...
...a Class A Hybrid Tube Amp/Preamp with six amp voices that provides direct USB stream, high output headphone (dual mono), line level analogue, and High Z Amp output!
Whether it is truly the only guitar in the world with a built-in Class A tube amp, I couldn't tell you, but that's what the marketing spiel says in the eBay listing. You may want to take that with a pinch of salt, because it wouldn't surprise me if someone else had had this idea before.
As intriguing as all that is, I wonder about the road-worthiness of this guitar because the eBay listing stresses: "Collection only, this is not a delivery item".
This guitar has been listed several times on eBay recently with quite a hefty Buy It Now price. This time bidding began at £0.99 and with five days left to run on this auction it'll be interesting to see what price this will fetch.
G L Wilson
© 2012, Guitarz - The Original Guitar Blog - now in its 10th year!