guitarz.blogspot.com
: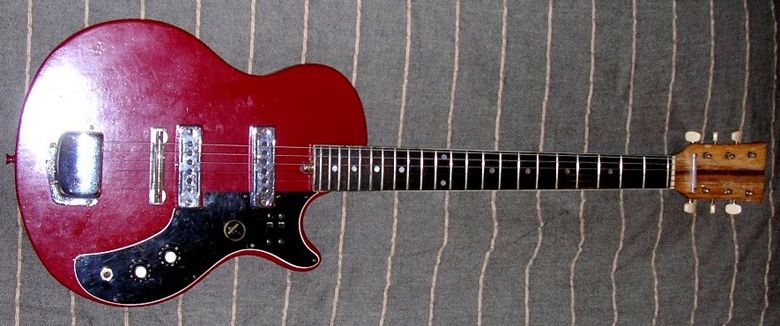 Dear Mr. Wilson,



I have been following your amazing and entertaining Guitarz blog for some years. I am writing you as I just got a Kay guitar (for almost no money, to ease any guilt trip in such a risky decision... I am aware of Kay's reputation). There is no identification label on it and I could not find it in any online catalogue.



I attach a few pics (unfortunately their quality is as good as I could do with my old camera, I am the worst photographer in the world). Before I decide what to do with it I thought your website would be the good one to tell me something about it, as I had never seen such a model: sort of Les Paul-like, but with the typical Kay single coils. It is pretty much a mess, besides the cosmetic wear. The paint job is really questionable, part of the headstock broke and after the (bad) repair someone switched the two 3+3 pegs, the wiring was falling apart, the string retainer was missing and I just replaced it with a quickly-made metal block using the original holes to see if the guitar plays... In the end it does, and I am still curious to identify it because I find some attractive weirdness in it.





I would be really happy if anyone could give me some clues. Thanks in advance for your kind attention.





Best regards





Giancarlo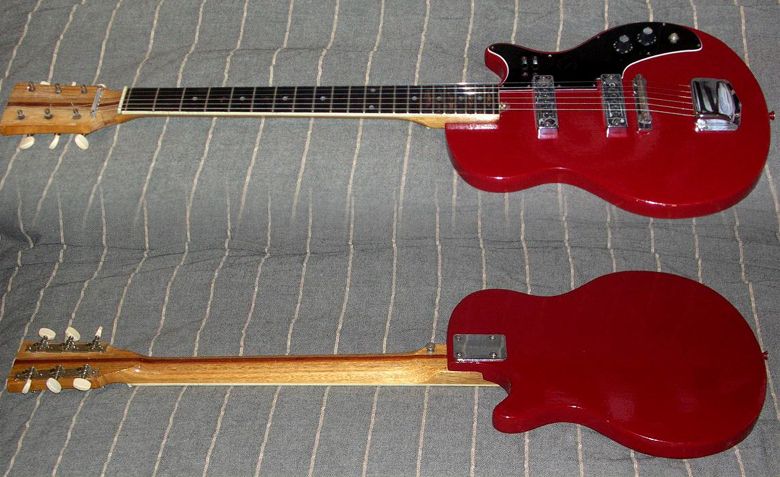 Thanks for your email and photographs. Although your Kay guitar does look familiar I am afraid that I can't identify the model for you. It does look like maybe it was supposed to be a (crude) copy of the Gibson L6S rather than a Les Paul. It does have a similar "pot belly" shape to it.
Quality on 1970s/1980s Kay guitars does vary considerably from one model to the next. This would be because they originated with a number of different manufacturers. I recently played on a friend's Kay branded acoustic. It was obviously quite a cheaply made instrument, but the action and playability were surprisingly good. Also the semi-famed K45 travel guitar (marketed in the US as the Austin Hatchet) was a quality instrument and so solid and sturdy you could have knocked a brick wall down with it.
If anyone has any more info on the above guitar, please contact us in the usual way via the comments below.
G L Wilson
© 2015, Guitarz - The Original Guitar Blog - the blog that goes all the way to 11!
Please read our photo and content policy.