guitarz.blogspot.com
: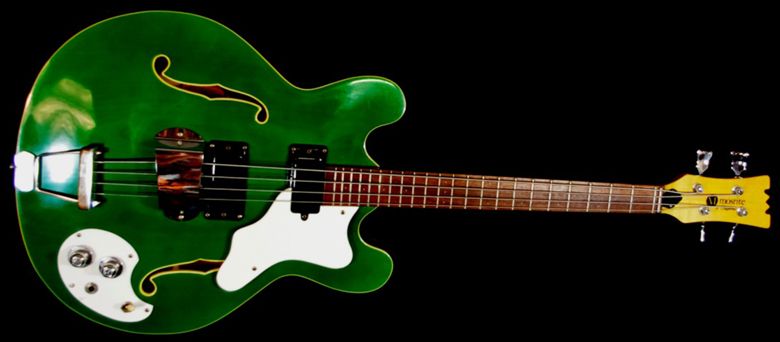 Most modern bass players wouldn't entertain the idea of a large-bodied hollowbody instrument with a short-scale length. I'd imagine it would produce quite a boomy tone. However, I can't help like this
Mosrite Celebrity III Model 221 Mark X bass
from 1969 (is that enough model designations already?). Apparently this was the rarest Mosrite colour (for some reason I often find green guitars appealing even though it's not a colour I am usually drawn to), and that there was only a single run of guitars finished in transparent green across several models in the range. Check out also the Bart Simpson machine heads!
With its close string-spacing and short-scale this Mosrite would probably be better suited to the guitarist who dabbles with bass occasionally, rather than a dedicated bassist. But then with a Buy It Now price of $3,495 it's most likely to be bought by a collector rather than a player.
G L Wilson
[Edit: I'd totally forgotten that we'd looked at
one of these
before. That particular example, in sunburst finish, was being offered for sale at $795, which makes the above pictured example a tad optimistically priced, I'd say. Even if it is a rarer finish. That's one helluva lot of money for a green finish. Note also, these are not just short-scale basses, but they are ULTRA short being just 24.5" in scale length.]
© 2012, Guitarz - The Original Guitar Blog - 10 years and counting!