guitarz.blogspot.com
:
Now this is a Guitarz guitar if ever there was.
After doing a bit of research, I found out
this is 1964(ish) Japanese built, Selmer imported, Freshman.
Despite what the seller says (and previous owners' "doing up"), it seems pretty much original including the bridge. Not surprisingly, this was a budget guitar among budget guitars in it's day, selling for the princely sum of £15.
It does have it's charm, two tone scratchplate and wood covered pickups being especially groovy. I don't image it plays well all that well but I'm sure it could be induced to cough up some sweet chunky funk in the hands of someone like Jamie Hince.
It's attracted some attention already and, as it's quite a pretty and desirable collectors piece, I think there'll be a bit of a scramble at the end, which is just 13 hours away, as I write.
Here's what the seller says:
This is an old late 1950's or early 1960's solid electric guitar.
I would say a collectors item, not for playing.
It is marked FRESHMAN and also Foreign.
When purchased at the car boot the previous owner said he had "Done it up".
He had given up when he had tried to modify the rhythm solo switch to a pick up selector and got in a mess.
He says both pick ups work but it needs sorting out.
I have tried it on a little amp and the only thing that works is one volume control.
The other volume, tone and solo/rhythm switch do nothing to the sound at all.
The paintwork is all original as are all the other parts except the bridge looks odd to me for an electric guitar.
A rough little guitar needing a lot of cleaning and sorting out. All beyond me.
By the way, I found this scan of a Selmer catalogue, thanks to Laszlo ℅ the indispensable
Vintage Hofner web site.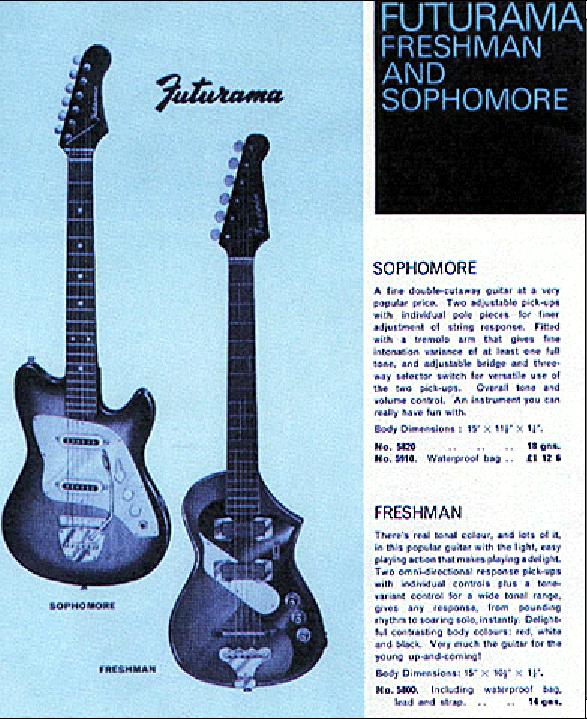 David in Barcelona
© 2012, Guitarz - The Original Guitar Blog - 10 years and counting!