guitarz.blogspot.com
: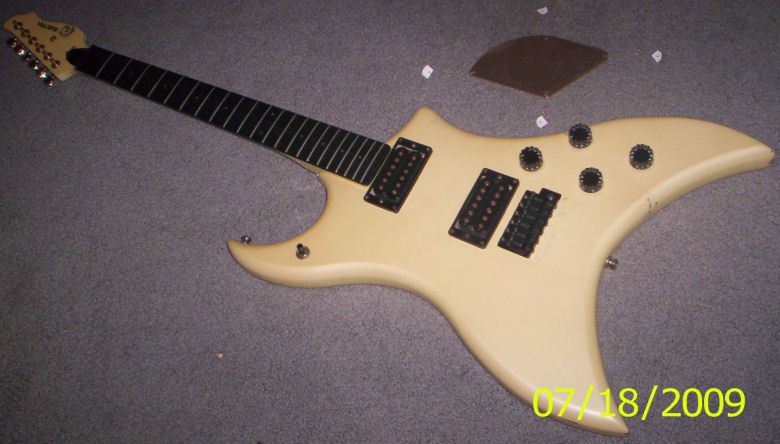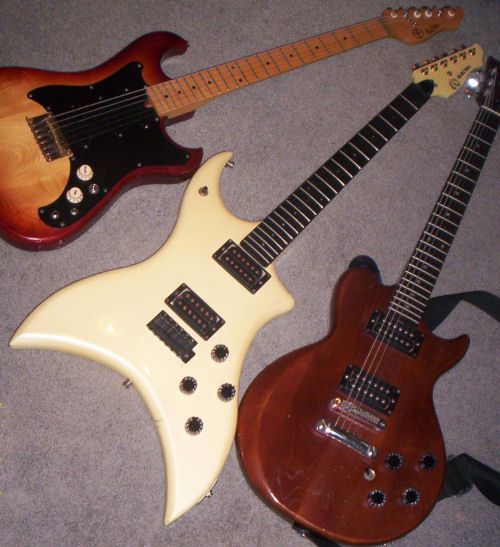 Here's another email from a
Guitarz
reader:
Hello Mr. Wilson, my name is Tyler Beard.

Seeing the more recent posts of the Vigier (the model name of which I've already misplaced in my mind) and Aria Pro II Urchin, I thought I'd give you a peek at what is a more considerably "balls-out" version, which doesn't feature the same elegance of the Vigier or professionality (sic?) of the Aria Pro II, but can very easily blow just about anything else to bits.

This is a 1983 Electra Futura X1-PW (one of two models, this one being the reversed body, and a seperate model designation from its red variant). These, like, Arias, were built by Matsumoku, the premier Japanese maker by many.

As far as the technical facts, it has a maple neck, ebonized (darkened) rosewood fretboard, and alder body. The Pearl White finish has obviously yellowed, so it's more of a "Yellow Snow" finish now. It weighs a bit over 8 pounds. Has 22 frets, and sealed tuners which are just stock factory tuners, nothing notable, but they do the job wonderfully. The bridge on mine is not original, but a TekGlide, on which the trem block and plate are forged as one piece. Holds tuning amazingly well, even thorugh dive-bombs like EVH wouldn't believe. It's got a bit o' flare in the electronics, with push/pull tone pots activating coil tap and phase reverse. Pickup selector is positioned like a Les Paul, and is a standard 3-way. The real fire comes with the pickups. Pickup makers should take a gander at these. They are MMK45s, and are probably some of the best pickups of the era, or even compared to today-well, I think so. Never have I heard such pure, unmolsted screaming, crying, or singing from a guitar. No need for effects or any fancy amps here, the guitar does the job.

And this thing has a bit of a story. Back in the 80s, I suppose when smashing was cooler, it was the victim of such an act. The body was effectively cracked and the lower bout by the electronics broken off almost entirely. There was no neckplate, the 1-3rd frets were popping out, what have you. But, she was free. Won in a sort of contest. There were alternative Electra prizes but I picked this. I graciously thank the man responsible, I gave him a bit of trouble with it. But she now has a temporary Squier neckplate (which I'm not proud to say) and mis-matched neck screws, but will be better soon. Of ocurse, all the wear and tear won't be touched, after 26 years of established gigging, it wears the scars loud and proud, with her rust, dings, dents, scratches, cracks, chips, faded gold plating, and whatever else comes to her.

~Tyler
Hey, thanks for all the info, Tyler. That's not one that I've (knowingly) seen before. I hope you've had her strung up and rocking since those photos.
Keep 'em coming, folks! We want to see your guitars - the more ususual or original, the better.
G L Wilson
Guitarz - The Original Guitar Blog - now in its 9th year!