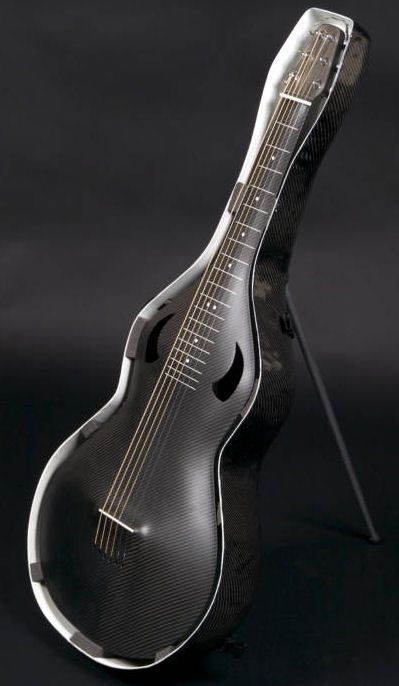 guitarz.blogspot.com
:
Did you ever see a guitar as sleek-looking as this
Halua acoustic lapsteel
? It's like a spaceship out of a SciFi movie where the whole craft is perfectly seemless and smooth. The bridge is integral to the body as is the fingerboard (it's not a "fretboard" in this instance, because being a lapsteel it has no frets, just markers).
Although it is based loosely on the Weissenborn acoustic slide guitars of the 1920s and 30s, this 21st Century reinterpretation is constructed of carbon fibre (or "carbon fiber" if you will) and comes in its own carbon fibre case that doubles as a stand.
This particular guitar - currently for sale on eBay - formerly belonged to
Ben Harper
, and was apparently surplus to requirements because he had somehow ended up with two.
Halua guitars are handmade by Hans Jorgen Jahr, a Norwegian now relocated to Australia.
For more please see:
www.halua.no
G L Wilson
NB: Please make sure you are reading this Guitarz post at guitarz.blogspot.com and not on a Scraper blog that copies posts without permission (and steals bandwidth) so as to profit from advertising. Please support original bloggers!