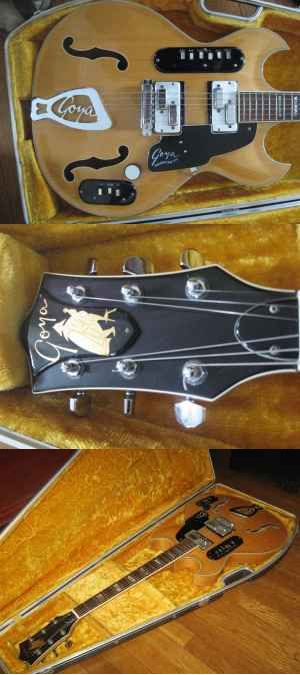 guitarz.blogspot.com
:
Alan writes to say:
It's not only eBay where you find wacky guitars. Check out

this page

from the Washington DC USA branch of Craigslist.
Of course he's absolutely right. I tend to check eBay because it's much more international and I do like to think that I could bid on these items myself once in a while.
But never mind all that, this guitar - a
Goya Rangemaster
from 1968 - is a real beauty. I expect it is so named because of the range of tones obtainable from the split pickups allowing you to mix the sound of the top three strings in the neck pickup position with the bottom three strings in the bridge pickup position and vice versa. (There seem to be lots of these split pickup guitars coming out of the woodwork lately).
The design is reminiscent of the Gibson Barney Kessel with its twin Florentine cutaways. However, probably due to the location of the banks of switches, the f-holes seem to have gone south!
As with other Goyas, it is re-badged guitar for import into the US market. The Rangemaster series was made in Italy, which you may already have guessed from the general design with all those switches, and the manufacturer is believed to have been the
Polverini Brothers
, although this remains unconfirmed.
For more information there is a great site about Goya guitars at
goyaguitars.tripod.com
.
A great find!
G L Wilson
Guitarz - The Original Guitar Blog - now in its 9th year!