guitarz.blogspot.com
: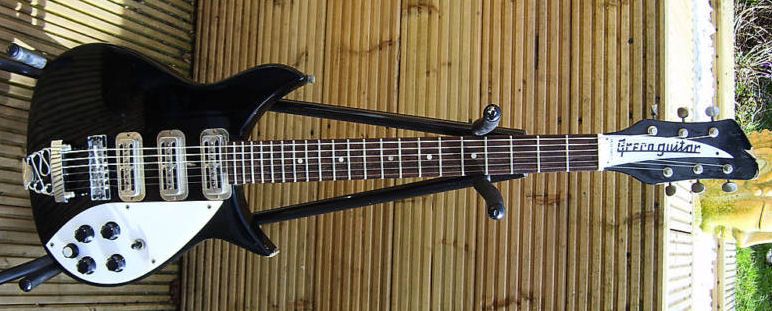 Rickenbacker
are known to be particularly zealous when it comes to copyright infringements based on their brand name, designs and trademarks. They are known to trawl the eBay listings looking for cheaper copy guitars listed in conjunction with the Rickenbacker brand being mentioned. The best a seller of a Ricky rip-off can do is to display good clear photos so the buyer can see what they are getting, and avoid mentioning the R-word
anywhere
in the text. Even derivatives of the name, e.g. Ricky, aren't advised, as these will get pounced on too.
With a feedback score approaching 1000, you wouldn't have suspected the seller of
this Greco
of being that green in this respect, but he or she is really asking for it when listing this guitar thusly: "
1984 Greco Rickenbacker Vintage and Rare COOL!
"
They are only making matters worse for themselves when they say:
If you have been craving a Rickenbacker but don't have the funds then this might just be for you, it's a made in Japan 1984 Greco Ricky copy with 3 toaster pick ups and the all important blend knob which helps give it it's (sic) distinctive sound, it plays nice and looks the part, in fact you only need change the tail piece and truss cover to rickenbacker ones and nobody will know it's not the real thing.
Shooting yourself in the foot or what?
Anyone want to bet how long it is before this listing gets pulled?
G L Wilson
Guitarz - The Original Guitar Blog - now in its 9th year!