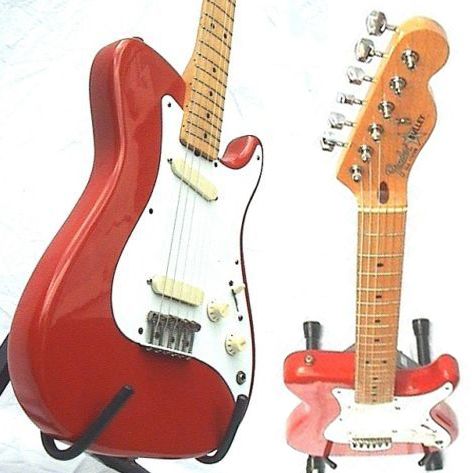 guitarz.blogspot.com
:
I remember when the Fender Bullet was originally launched in 1981. At last, here we had a genuine USA-built Fender guitar that was affordable to kids like me. I saw the adverts in the music press and I read the reviews, but still I didn't like it. There was something toy-like about its appearance. In fact, looking at it now, it reminds me of the early student model Vox guitars.
These original Bullets used Telecaster necks and had a slim body based on the Telecaster shape. The pickguard owed more to the Stratocaster design, but was made of metal and had an integral bridge in that the rear of the pickguard had a upturned lip into which were screwed six saddles. A Deluxe version of the Bullet had a separate hardtail bridge.
By 1982 everything changed and the Bullet was re-launched with a Strat-inspired bodyshape, various pickup combinations, plus long- and short-scale bass models. A few years later down the line and the Bullet formed part of the Squier line-up.
Pictured here is an example of the original 1981
Fender Bullet
, this example currently being offered for sale on eBay. I don't know if they are particularly "rare" as examples seem to show up on eBay fairly regularly. They certainly seem to have increased in value bearing in mind the prices these sometimes sell for. Apparently they sound great. As the seller of this example says, "There's enough sparkle in these pickups to guarantee a big smile on your face every time its played!"
I can see this guitar being used for studio work. However, in a performance it could look very silly unless you a person of smaller proportions. I recall seeing the band T'Pau on television back in the mid 80s, and their guitarist was playing one of the later Strat-shaped Bullets. This guy was well over six feet tall and looked ridiculous playing this tiny guitar; it looked like a toy. (I wondered at the time if he was a genuine musician and not a male model who had been handed a random guitar for the TV appearance).
G L Wilson
NB: Please make sure you are reading this Guitarz post at guitarz.blogspot.com and not on a Scraper blog that copies posts without permission (and steals bandwidth) so as to profit from advertising. Please support original bloggers!