guitarz.blogspot.com
: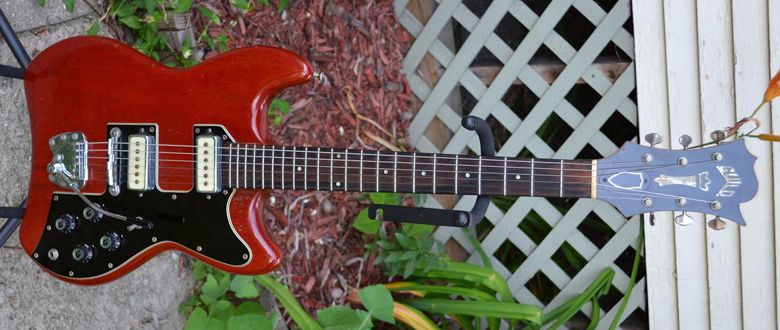 I'm always happy to feature classic Guild guitars on this blog. The company having been consumed by the mighty Fender corporation survives merely as a brandname of that company alongside Squier. I worry that the original American-made Guild guitars, particularly the solidbodies, are in danger of being forgotten.
As I said in the title of this piece, this vintage 1963
Guild Polara
is a real beauty. The relationship to its sibling guitar, the Jetstar, is clearly seen in the design, although the Polara is not so outlandish and is much more pleasing to the eye, with a similar vibe to Epiphone models Coronet and Wiltshire. Body and neck made of fine mahogany, with a fingerboard of Brazilian rosewood. One really interesting feature is the Patent Pending stand and supporting feet on the bottom of the body. I'm not sure how well this actually worked - you'll notice in these photos the guitar is being displayed on a regular stand.
This guitar is currently being offered for sale on eBay with a Buy It Now price of $1,899. Whether it'll sell remains to be seen. In the current economic climate, it seems that in the vintage guitar market big money only seems to change hands where the names Fender and Gibson are involved.
G L Wilson
© 2011, Guitarz - The Original Guitar Blog - now in its 10th year!