guitarz.blogspot.com
: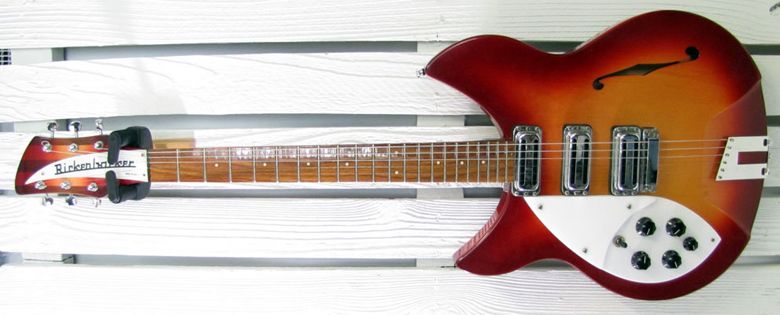 Ever vigilant on the lookout for interesting guitars for our left-handed friends, I spied this left-handed 1998
Rickenbacker 340 Rose Morris model
in Fireglo finish on eBay. Alas, it does have a rather hefty Buy It Now price tag of $4,100, which is way over what a brand new Rickenbacker 330 (i.e. right-handed and non-Rose Morris) would cost.
So, what makes this example so special? Rarity-value, I guess. It
is
left-handed, for starters, and being a Rose Morris model it sports an f-hole as opposed to Rickenbacker's more usual "cat's eye" soundhole. These guitars were originally created by Rickenbacker for import into the UK by Rose Morris Co, Ltd, of London, back in the 1960s. For a while Rose Morris Rickenbackers were the guitar of choice for Pete Townshend of The Who, before he figured out that if he used and abused Fender guitars with bolt on necks, for every four guitars smashed he could mix and match parts and build another three. Which was more economical than smashing a hollow-bodied set-neck Rickenbacker and being left with firewood.
G L Wilson
© 2011, Guitarz - The Original Guitar Blog - now in its 10th year!