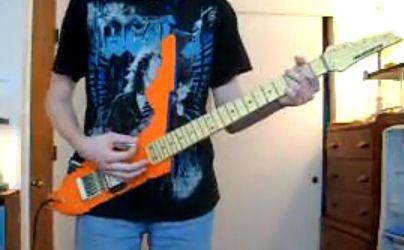 guitarz.blogspot.com
:
The state of Florida presents a weird shape with which to base the design of a guitar body on! Kudos to this guy for having the imagination to build some of his own bizarre guitars. In
another of his videos
he shows serveral other works in progress including a Super Mario guitar, a Bart Simpson guitar, and his own copy of the
Erlewine Chiquita guitar
.
The Florida guitar uses finishing nails as frets (again, top marks for inventiveness) and doesn't seem to have any machine heads up at the headstock so I'm guessing he's using some kind of tuning system down at the bridge end.

* If you're a guitarist you have to call everyone "Dude". I think it's a tradition or an old charter or something.
G L Wilson
© 2011, Guitarz - The Original Guitar Blog - now in its 10th year!