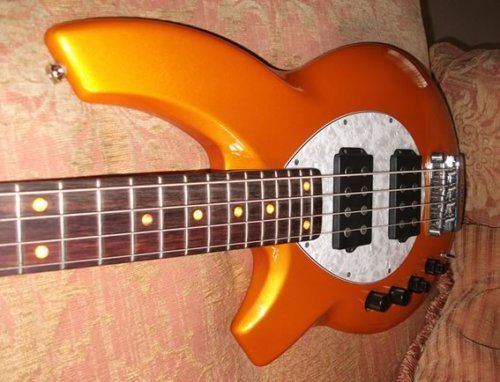 guitarz.blogspot.com
:
Music Man, Leo Fender's first post-Fender guitar company, are known for their guitar and basses (some would say especially the basses) which are usually quite conservative in styling. But here we see that with the
Music Man Bongo Bass
they decided to break the mold and go for quite an almost space-age design.
It was the result of a partnership with
DesignworksUSA
, a design consultancy known for its work with BMW, and features a 24-fret rosewood fingerboard and 4-band active EQ powered by an 18V supply. This lefthanded model, currently being offered for sale on eBay with a Buy It Now price of £1,200, features a pair of Music Man humbuckers, although other pickup combinations were also available. It is also custom fitted with Orange front-face magnifying
Sims LEDs
whereas stock models would have had moon-shaped inlays.
G L Wilson
© 2011, Guitarz - The Original Guitar Blog - now in its 10th year!