guitarz.blogspot.com
: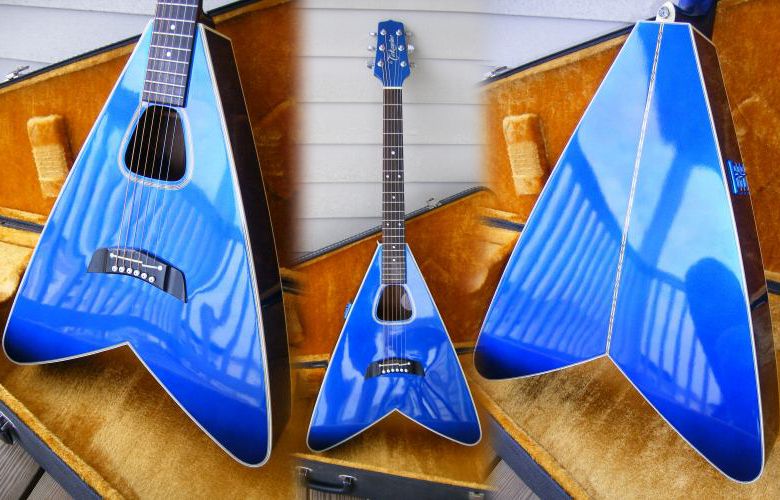 I mentioned this one in passing the other day
here on
Guitarz
, so thought it was about time we had a blog post dedicated to it.
Takamine Co., Ltd., the Japanese guitar manufacturer based in Nakatsugawa, Gifu, Japan, were forerunners circa 1978 in the introduction of electro acoustic guitars and were pioneers of the design of the preamp-equalizer in these guitars.
They were known for producing high quality copies of Martin guitars, but in the early 1980s they produced a far less conservative looking instrument, the above-pictured,
Takamine EA 360, a.k.a. Flying A
. Initially it was marketed as the "acoustic Flying V" but allegedly Gibson took exception to this description and so such references were dropped. Also, a V standing on its end - and with a soundhole - does resemble a big fat capital letter A, so the guitar intead became nicknamed the Flying A.
Construction is solid spruce top with rosewood back and sides. The scale length is 25 3/8" on a mahogany neck with a rosewood fingerboard with 14 frets clear of the body and 20 frets in total. The guitar is equipped with a pre-amp and a 4-band EQ.
There were 800 of these guitars built in the erly 1980s. The example pictured is from 1983. They were available in natural, metallic red and metallic blue finishes. Early examples had a Dean-like V-shaped headstock. My guess is that this was changed because of Gibson's objections to the V terminology.
Other makers have produced acoustic Flying Vs, most notably Germany's
Dommenget guitars
and more recently
Dean
; whilst their guitars are closer in shape to the Gibson Flying V template, it's my understanding that Takamine were the first to take this classic electric guitar design and apply it to an acoustic model.
G L Wilson
© 2011, Guitarz - The Original Guitar Blog - now in its 10th year!