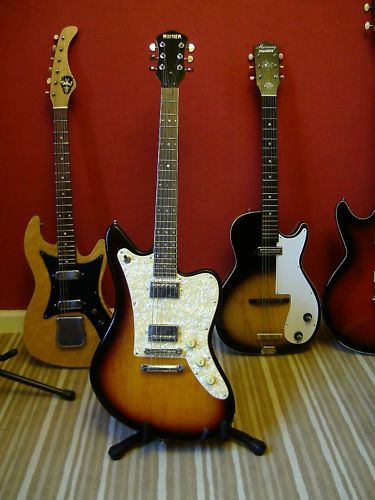 guitarz.blogspot.com
:
Now here's a Höfner guitar that I've not seen before. And no wonder, it's what they call an "evaluation model". I think that means "prototype" to you and me.
Here's what the seller has to say about it:
Höfner HE179, Jazzmaster style evaluation model, mint condition, in original carton very rare. In 2003 Höfner designers came up with a jazzmaster styled model in very limited number (apprx 50) which were sent out to specific dealers for evaluation across the World. Perhaps not wishing to go up head to head with Fender on the similarities of the jazzmaster, Höfner decided not to proceed. [...] Maple body, with rich sunburst finish, Grover tuners, stop tailpiece and adjustable tuneomatic bridge, 3 way pickup switch, volume and 2 tone controls, fully bound neck and headstock. Pickups are a pair of stonking Gibson-style humbuckers (which look suspiciously like a set of Lindy Fralin Nickels), fully pole-adjustable, these produce a mighty punch. One of these guitars found its way to Oz last year and fetched over £1000 on Oz Ebay.
So, there you have it. Personally I wouldn't have thought that the body shape would put Höfner "head to head with Fender", as plenty of other manufacturers have borrowed this same body style. I'm also not too keen on the 3+3 headstock design with this body shape; it looks a tad incongruous.
Whatever, it would seem to be quite an individual guitar for the player who doesn't want to have the same axe as everyone else, and the Buy It Now price of £340 seems very reasonable.
G L Wilson
© 2011, Guitarz - The Original Guitar Blog - now in its 10th year!