guitarz.blogspot.com
: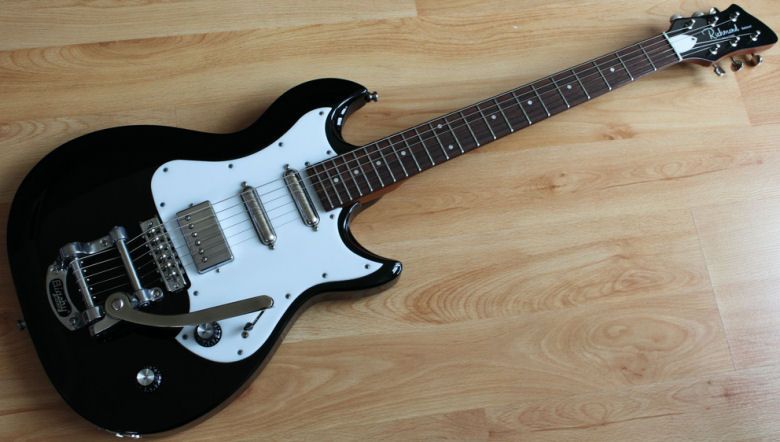 Guitarz reader Colin tells us about his current favourite guitar of choice
:
Richmond Guitars
is a Canadian guitar maker, owned by Godin. The way I heard it they started the Richmond brand to market some retro designs (I also love the look of the
Dorchester
).
The
Belmont
is a mahogany neck and body guitar, 24 3/4" scale, with two Seymour Duncan single coil lipstick pickups in neck and middle positions and a Seymour Duncan '59 humbucker at the bridge. The controls are five position blade switch
a la
Strat, master volume and tone. It is hard to see on the photos but there is a cool bevel on the top edge that makes it a bit more comfortable to play. The neck is slim and the action is good, the only downside is that it's really heavy!
I picked mine up on eBay when I saw it was cheap, in mint condition and no one was bidding. I have had a cheap Danelectro reissue for years and have a soft spot for the sound of lipstick pickups, so I was intrigued by the some of the clips I saw.
All of the settings sound good, the pickups sound great and the in-between position with the humbucker and lipstick is more useable than I expected. It's a very dark vintage sort of sound, which was just what I was looking for.
The website shows a transparent black and white finish but not a solid black with white pickguard like mine, so I gave Richmond a email and they said: "That's a 2010 model. It had a $1090 list price (including the gig bag). Yours was probably a prototype to test a new finish (we sometimes sell prototypes through our dealers)."
Colin Clews
www.jazzrandom.co.uk
© 2011, Guitarz - The Original Guitar Blog - now in its 10th year!