guitarz.blogspot.com
: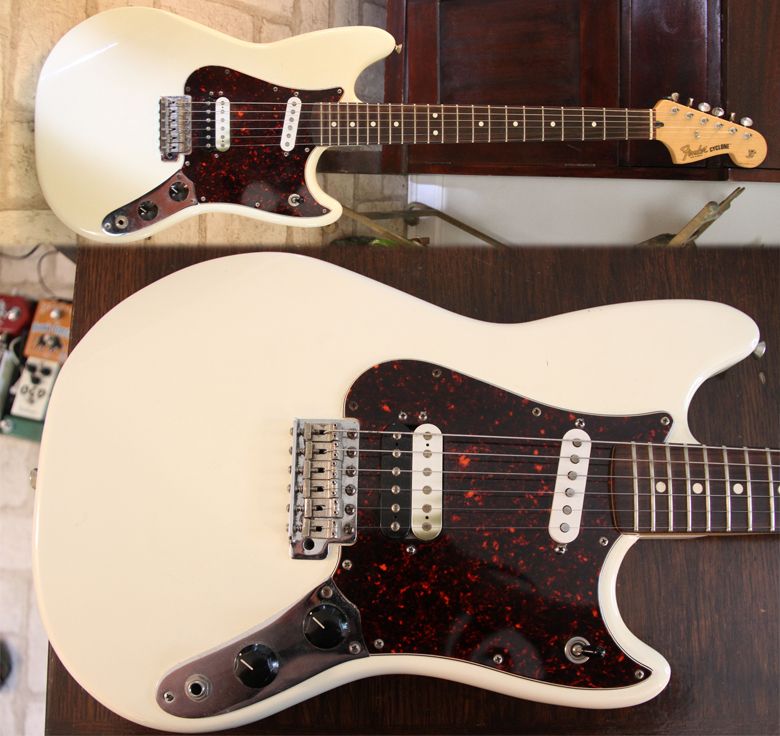 Following on from Bertram's piece on the Fender Cyclone II a few days ago, Guitarz reader Ben Albey has sent us this review of a Fender Cyclone 2-pickup model plus a video demo. Nice one! Over to Ben:
This is my brother in-law's 2001 Mexican made Fender Cyclone. Everything is original except one of the tuners which was replaced by a Grover, then replaced by me with an extra Fender one I had left over from my Nashville Tele when I put Sperzel tuners on. It has the original Atomic humbucker in the bridge, and Tex Mex single coil in the neck, which is really sweet because it has an angle on it that you don't see on many fender neck pickups. It's white, which by now is cream, which is a hard color to find on these Fender Cyclones, a guitar that is already hard to find.
This year of Cyclones came in Candy apple red, black, white, and vintage sunburst. I saw a black one at a music store in Tennessee when I was on my honeymoon for $300; my wife said I could get it, but we were newlyweds and hard up for cash, so I didn't buy it, and I've been kicking myself ever since. It has a Strat tremolo bridge on it, and a 24.75" scale neck. This is a strange scale for a Fender, a scale that is on Gibson Les Pauls. The guitar also features a maple neck, rosewood fretboard, tortoise shell pickguard and a Jaguar-like control plate and a three way toggle like on a Jazzmaster.
The only draw back for me is that the body is made out of poplar, which is why if you find this era of Cyclone you can probably get it for around $300-$600. Poplar is a good enough wood, and a lot of players have poplar bodies; personally I like ash and alder. Over all this is a great, fun, and comfortable guitar. If I ever find another one, I will buy it on the spot.
Ben Albey
© 2011, Guitarz - The Original Guitar Blog - now in its 10th year!