guitarz.blogspot.com
: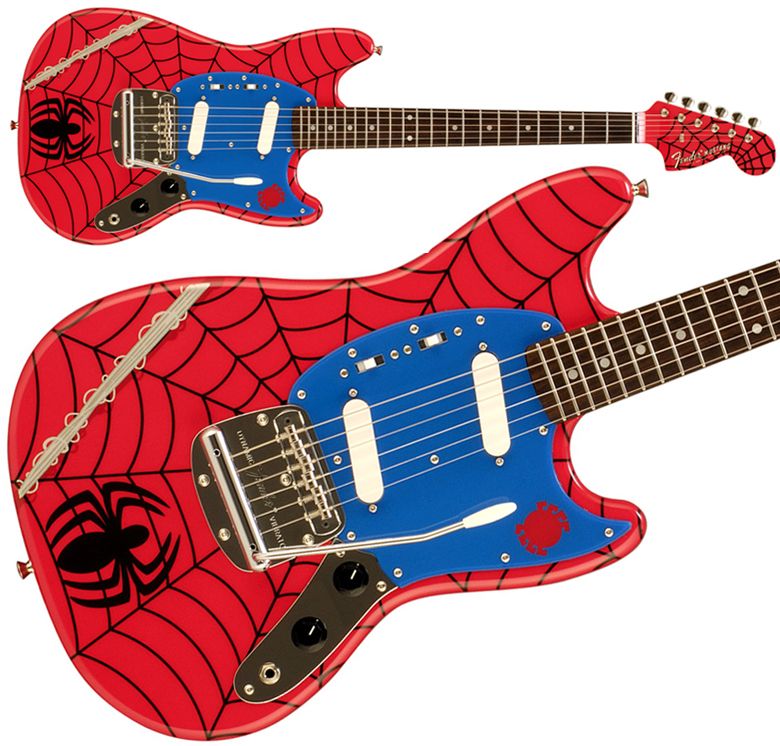 We've looked at guitars based on comic book superheroes before (e.g.
Superman
and
Batman
) but this Spider Man guitar is official Fender product. Issued by Fender Japan, the
Fender MG Spider-Man
is a Mustang with basswood body, 2 singlecoil pickups with on/off/phase switch settings for each and the now legendary Dynamic Vibrato for which the Mustang is famous. But most obviously it has an in-your-face Spider Man finish which may be a little too pink for the tastes of some sensitive souls. It even has a competition stripe of sorts, a "Spidey" competition stripe, I guess.
If you want one, you'll have to be quick because this is a limited edition of only 50 examples; also it's my understanding that these are being produced for the Japanese market only, so good luck in trying to track one down. (Why is it that Fender Japan always seems to have the most exciting range of Fender guitars?)
Thanks to Keith McCreary for bringing this guitar to our attention.
G L Wilson
© 2011, Guitarz - The Original Guitar Blog - now in its 10th year!