guitarz.blogspot.com
: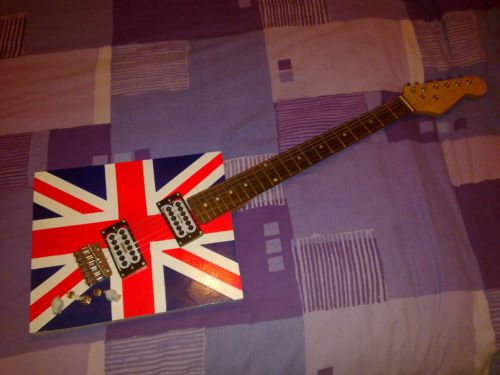 The seller of this one-off, supposedly "prototype"
rectangular-shaped guitar
tells us that the angled neck makes for quite an ergonomic instrument. I must confess that I remain unconvinced, although without trying it out for myself there's no way of knowing for sure.
It's a pity that the Union Flag has been inaccurately rendered - the red diagonal stripes should be set to one side within the diagonal white stripes with a counter-clockwise bias so as to give a pinwheel effect. Oh well, at least it's better than
Gibson's sorry effort
.
Currently listed on eBay UK (where else?) with a Buy It Now price of £270.
G L Wilson
© 2011, Guitarz - The Original Guitar Blog - now in its 10th year!