guitarz.blogspot.com
: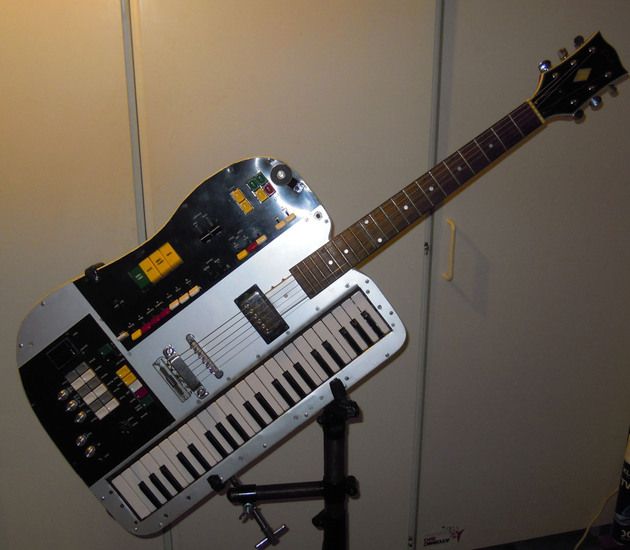 Hi, thanks again for maintaining such a great blog. Here is something you might like from a swedish auction site:
Below is a translation, some info is repeated and the first line is a classic, but you get the idea:
This is a unique instrument! It is also the only one of its kind!
It is constructed as a guitar with all the possibilities of an electric organ. The instrument contains the circuit board of an electric organ, which is controlled from the strings and fretboard. Basically the organs "lower/under manual" (not sure what he means here) is replaced with a fretboard and strings.
When a chord is played on the fretboard and strings, a preset rhythm, background and bass line starts. The strings work as they would on a conventional guitar.
An organ keyboard is built into the instrument, with different harmonies.
The construction is a easy to handle electric guitar, with all the possibilities for rhythm, backgrounds and bass lines of an electric organ.
The builder was a musician and telephone electrician, who for years had been thinking about how to build a guitar with backgrounds, just like an electric organ. In the end he built this prototype. Technical drawing is available.

Kalle Mattssonwww.hijackyourlife.com
Thank you, Kalle. That is, indeed, a classic. Love it. - G L Wilson
© 2011, Guitarz - The Original Guitar Blog - now in its 10th year!