guitarz.blogspot.com
: In February we took an all-too brief look at a
Roberts RotoNeck guitar
. I don't think we really knew quite what we were looking at at the time. Such is the beauty of the internet, that one of the guitar's creators has been in touch.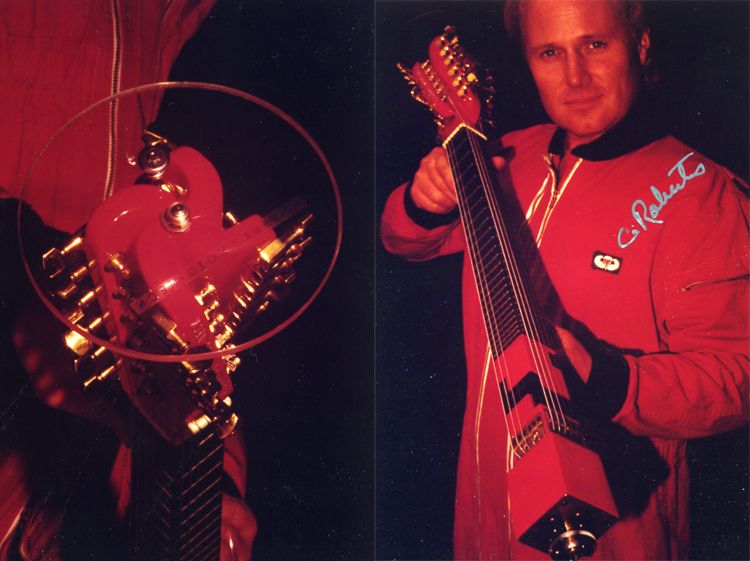 Curt Roberts with the original 4-sided RotoNeck guitar
Lou Bonkowski
writes:
"I am the co-inventor of the RotoNeck and it has evolved quite far from the version you have there on the blog. Our very first RotoNeck was four sided with four 6-string guitars on one neck. Looked like a table leg. [pictured above]

"The evolution of RotoNeck started back in the late 70s while Curt Roberts and Lou 'Lubani' Bonkowski were living in the San Bernardino Mountains. Lake Arrowhead to be exact. The first concept model was cut out of a 4x4 piece of pine wood which later became the 'Roberts RotoNeck', a 4 sided guitar on one neck which each neck had its own tuning and you could rotate the guitar on two lexan discs. I have since then built approximately a dozen other concept models in search of the right model to manufacture. There are so many different models that this whole invention has gotten way too out of hand. The versions of RotoNeck are ENDLESS!!!


"Almost immediately the three-sided and two-sided versions became dreams. We built the two-sided version first. I wanted to put it in a body and Curt wanted to continue using the lexan discs. You have the version just mentioned [on the blog - pictured above] and it is called 'Roberts RotoNeck' I believe there might be as many as 12 to 15 of these. I have one and my son has another plus the very first 10 in the series never even got built. I believe the serial numbers started at 010.

"Anyway soon there after and at our first NAMM Show, we did another run of 13 RotoNecks that were spun in the body, not on the discs. This line was a combination of 6x6 and 6x12 [i.e. 6 and 12-strings]. I think only a few 12-6s, not sure.

"I wanted a line of guitars named after my father 'Lou Bonnie', studio musician and guitar great of the 30s, 40s and 50s. I came up with the name while living in Hawaii and spelled the name Hawaiian style: 'Lubani'.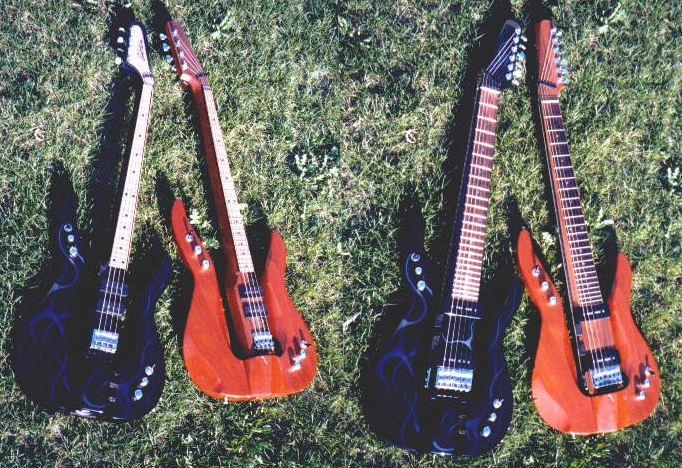 "While living in Hawaii in the early 90s I came up with the concept of just using four strings on the thumb side of the guitar and putting those strings in a tuning so at any given moment during the use of the six string side the notes on the open four string side could be easily accessed or by just using a thumb-over as a capo, compliment the adjacent cord formed on the six string side. Also each side of the guitar is amplified seperately and can be either played separately or together sounding like almost three different instruments. I am calling this version/model 'Lubani Tener' and have another nine string version with only 5 strings on the bottom side and 4 on the thumb side. This is called 'Lubani Niner' and has a very slim neck and feel. The 'Niner' is my favorite because of the thinness of feel. At present Curt Roberts is playing this guitar. He won't give it back to me he likes it so much. He would be the person to demonstrate how to play RotoNeck guitars. Your hand has to reform itself to play certain models which makes the early versions of RotoNeck not very desireable to play. The 'Tener' and the 'Niner' are very much more desireable.

"I have two 'Teners' here with me in Port Orchard, WA and would love to find a couple of shredders to try and learn this instrument. Got any suggestions?"

Lou Bonkowski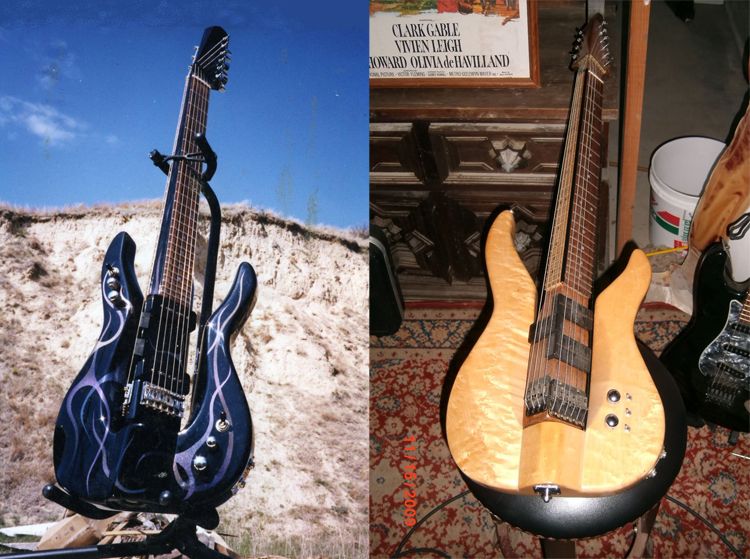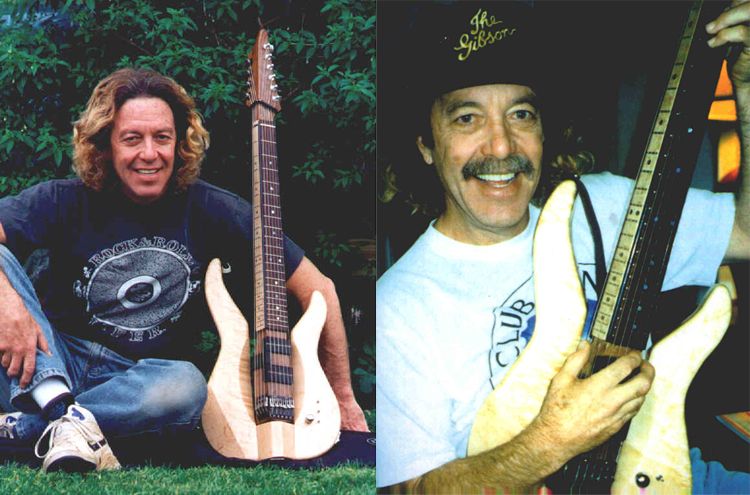 Lou demonstrates a few RotoNeck chords:


I'd like to thank Lou for taking the time to answer questions about the RotoNeck guitars and for supplying photos from his archive for this article. If any shredders want to take Lou up on his offer, you can contact him via us here at Guitarz.

All photos courtesy of Lou Bonkowski. Please do not copy without permission.
G L Wilson

NB: There are a lot of blogs STEALING content and bandwidth. If you read this anywhere else but on guitarz.blogspot.com then you are reading a blog that STEALS content. Please support original bloggers!